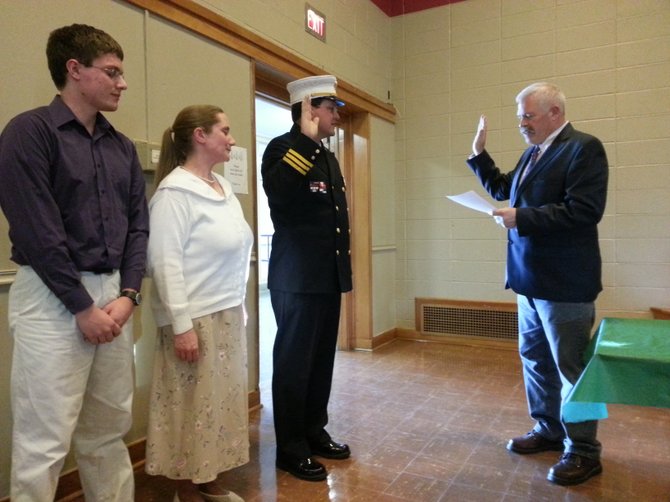 Manlius — For the first time in 25 years, the Manlius Fire Department is under new leadership. On May 14, Mayor Paul Whorrall inducted John Buskey as fire chief and Bradley Pinsky as assisant fire chief. Whorrall held the position as chief since 1988, but was legally required to step down when he was elected mayor in March. The chief and assistant chief were chosen following an election within the fire department a few weeks ago.
Buskey has been a part of the Manlius Fire Department since 2001, where he has served as assistant fire chief, Captain, Lieutenant, EMT, firefighter and chaplain. Before joining the Manlius Fire Department, he held various positions at three other fire departments in Upstate New York and two in Kentucky.
Buskey attended high school at Manlius Pebble Hill in DeWitt. He went on to study psychology at Roberts Wesleyan College and then received his masters of divinity degree and a doctor of ministry degree soon after from the Asbury Theological Seminary and Eastern Theological Seminary respectively. He is currently a pastor of Oneida Baptist Church and Edmeston Second Baptist.
Pinsky joined the Manlius Fire Department in 2002 and held the ranks of Lieutenant and Captain for several years before being elected to the position of assistant chief. Pinsky has served as the fire department's municipal training officer for the last five years and has served over 20 years in emergency services.
Pinksy earned both a juris doctor and master degree from Tulane University in health administration and currently operates a law practice in DeWitt where he represents over 500 fire departments throughout the state. He is also a nationally certified fire officer and fire instructor.
Vote on this Story by clicking on the Icon