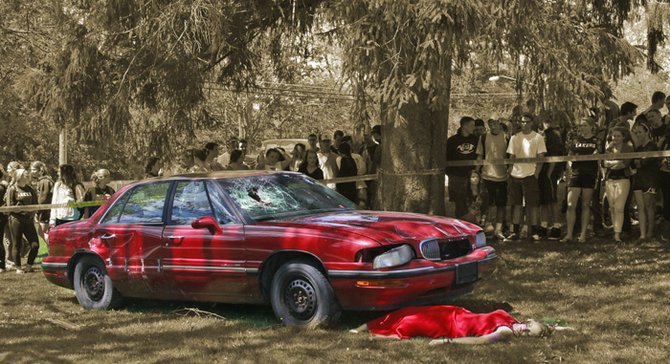 Cazenovia — Juniors and seniors at Cazenovia High School received a scary dose of reality last week as local emergency organizations and members of the high school's Students Against Drunk Driving chapter staged a Mock DWI event on the school grounds.
Four SADD members played four students after prom who suffered a car accident. One student was killed, two were injured and the driver — who was drunk — was uninjured and arrested.
Junior and senior class members watched from behind yellow police tape as Cazenovia police, fire department and CAVAC crews arrived on the scene as if it were an actual event. Police Chief Michael Hayes narrated the events as they unfolded.
Driver Carson Clabeaux was given a field sobriety test and arrested by police; front-seat passenger Morgan Croft was ejected through the windshield and pronounced dead at the scene. Geoff F. Zimmer and Geoff S. Zimmer, of Ayer and Zimmer Funeral Home, removed the body in a black hearse. Back-seat passengers Pearl Eberle and Sally Langan were both injured and trapped in the back seat, and had to be extricated by the fire department using a pinching tool and reciprocating saw to cut through the car.
After the accident scene re-creation, which lasted about 20 minutes, the students all went into the high school auditorium to watch a video and listen to a panel discussion about drunk driving by the day's participants.
"I think it was very successful," Hayes said. "We're not there to scare, we're there to educate — and unfortunately we can't ride with them 24/7. Hopefully they'll all have a good prom season and a good summer, and carry this message with them the rest of their lives."
Hayes thanked all the participants of the event, including his department's officers, the Cazenovia Fire Department, CAVAC, Ayer and Zimmer Funeral Home, the Cazenovia Central School District and Don's Auto of New Woodstock, who donated the car.
Cazenovia High School Principal Eric Schnabl said the school offers the Mock DWI event every other year. "It's good for students to see the impact drinking and driving could have," Schnabl said. "It this saves one person from making a bad decision it's well worth it."
Jason Emerson is editor of the Cazenovia Republican. He can be reached at editor@cazenoviarepublican.com.
Vote on this Story by clicking on the Icon