Baldwinsville — In two school cafeterias, students are helping the Baldwinsville Central School District to reduce its carbon footprint with one simple act – recycling milk cartons.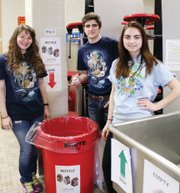 This spring Baker High and Van Buren Elementary schools began piloting an initiative to recycle milk cartons. Before Baker began the initiative in mid-March, students were throwing about 3,000 milk cartons in the trash each week. At Van Buren, they were tossing roughly 1,400 cartons. Now, with a container in each cafeteria designated specifically for milk cartons, students are getting in the habit of recycling their cartons.
Both schools have set up recycling stations in their cafeterias. Baker has two stations. At each station, the high school students dump any leftover milk down a sink before tossing the carton in the recycling container. There is also a container for cans and bottles, as well as a receptacle for brown paper bags. At Van Buren, if students do not drink all of their milk they have learned to dump it in a bucket and then throw the carton in the designated receptacle.
Mark Penhollow, a science teacher at Baker and one of the staff members involved in the school's initiative, assembled a Green Team of student volunteers who have been instrumental in spreading the word among their peers about the benefits of recycling milk cartons. The students created a visual reminder about recycling in the display case outside the school auditorium to promote the initiative. The Green Team has also been publicizing the recycling efforts in other ways throughout the school. On Earth Day, members of the team supervised the recycling stations at each lunch period and handed out candy to every student who remembered to recycle.
Penhollow estimates that about nine out of every 10 students are recycling milk cartons, and the school is noticing greater compliance with recycling bottles and cans as well.
(Continued on Next Page)
Prev Next
Vote on this Story by clicking on the Icon