continued — As a member of the board, Webb-Bronzetti will work hard, making a commitment towards continuous support and growth of services for the students and families of the district. She realizes the need to obtain and expand upon the information and resources available to our youth.

Webb-Bronzetti has the vision, communication skills, problem-solving skills, commitment, and experience to address the fiscal and educational challenges of our district. She is focused on developing strategies that will result in positive outcomes. Webb-Bronzetti has experience working with federal regulations and with educational and fiscal challenges.
Webb-Bronzetti understands the importance of bringing a diverse and skilled background to the position of school board member. Her experience of service on several employer advisory councils, placement consortiums, the Syracuse University Diversity Network Board, the Alumni Board of Trustees at SUNY Potsdam (where she completed her bachelor's degree) and as vice president of St. Joseph's Parish Counsel, have contributed to her ability to effectively serve the Liverpool school district community.

Webb-Bronzetti holds a master's degree in rehabilitation counseling from Syracuse University. Her work experience includes employment consultant, trainer and vocational rehabilitation counselor with the Department of Veterans Affairs, as well as with OCM BOCES.
David Watson
My name is David Watson; I'm running for re-election for a position on the Board of Education.
I have lived in Liverpool for 25 years. My wife Jackie and I have been married for 25 years. We have two children: Jenni-Lyn, a 2008 graduate of LHS ,and Lauren, a 2012 graduate of LHS. Lauren is a freshman at Mercyhurst University in Erie, Penn.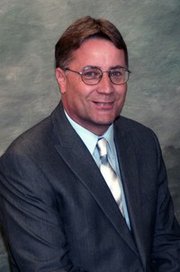 Since 2001 I have been a member of various committees in the district: Donlin Drive/Long Branch Elementary Renovation Committee, Donlin Drive Character Education Committee, Superintendent Search Community Committee, Communication Committee, Stadium Committee, LHS Senior Daze Committee and Long Range Facilities Planning Committee. As a board member I've served on the following committees: Policy, Ethics and Audit, and I'm the board liaison to the Phase One Facilities Improvement Project.
Vote on this Story by clicking on the Icon