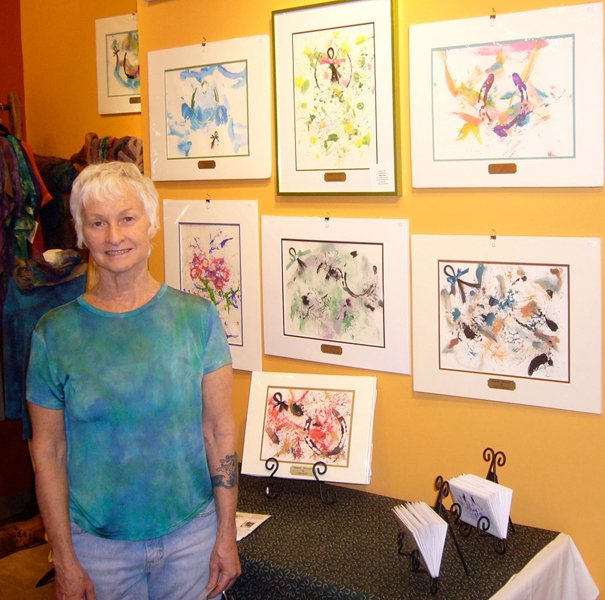 Cazenovia — Cazenovia Artisans last week began its first-ever fundraising endeavor with a three-week celebration of horses in fine art and craft. While all members of the cooperative gallery and shop have some sort of horse-related art for sale during May, the centerpiece of the "HorsePower" event is a special "Moneigh" exhibit of paintings created by champion race horses, with all funds raised through their sales to go to ReRun race horse rescue organization.
"I think it's exciting. It's the first time we've ever done a fundraiser here," said Marilyn Fegan, furniture artist and director of marketing and advertising for Cazenovia Artisans.
Cazenovia Artisans, which celebrated its 10-year anniversary in 2012, decided to hold its first fundraising exhibit at the request of one of its members, fabric artist Dorita Reyen, who is actively involved in the ReRun organization.
ReRun was founded to help prevent the slaughter of retired racehorses, which happens to more 10,000 thoroughbreds every year, most of the horses only five or six years old. The organization focuses on rehabilitating, retraining, and adopting retired racehorses out to well-suited homes.
The "Moneigh" exhibit at Cazenovia Artisans, which opened May 7 and runs through May 27, features numerous original paintings actually painted by retired racehorses, all framed with the horses' original jockey/farm colors and containing some of the horse's tail hairs tied in a ribbon. The paintings range in cost from $100 to $500, with the money going to ReRun.
Also as part of the "HorsePower" celebration, Cazenovia Artisans member and wildlife sculptor Debra Green is taking orders for 12-to-14-inch custom horse sculptures, with 20 percent of all profits to be donated to ReRun, Green said.
A reception for the Moneigh exhibit is scheduled for 1 to 4 p.m. Saturday, May 18, at Cazenovia Artisans, 39 Albany St. Refreshments will be served and a representative from ReRun is expected to attend.
Cazenovia Artisans recently changed and rearranged its artistic offerings for the spring 2013 season, including the addition of a new fabric artist, Barbara Jean Weingart. The shop currently has more than 20 members, and is open seven days a week. For more information and specific shop hours, visit cazenoviaartisans.com or call 655-2225.
For more information about ReRun, visit rerun.org.
Jason Emerson is editor of the Cazenovia Republican. He can be reached at editor@cazenoviarepublican.com.
Vote on this Story by clicking on the Icon