Compared to the north end, the south end of Skaneateles Lake is green, quiet and largely undeveloped. And a local group is working to keep it that way.
The Finger Lakes Land Trust recently announced its intent to create and conserve a "greenbelt" around the southern end of Skaneateles Lake. The project will begin with a pending land acquisition and conservation easement covering about 230 acres in the town of Spafford.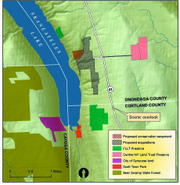 "The south end of Skaneateles Lake is the most pristine of all the Finger Lakes," Finger Lakes Land Trust Executive Director Andy Zepp said. "The goal is to not freeze time, but maintain the integrity of the area so that on one hand the farms and forests continue, and secondly there is a great opportunity to create trails and public access to certain areas that will be wonderful recreational and educational resources for both residents and visitors alike," he said.
Protecting the south end of the lake is also important because it is recognized as one of New York's Important Bird Areas by the National Audubon Society and Skaneateles Lake is used for drinking water for the city of Syracuse and Skaneateles.
Finger Lakes Land Trust is a non-for profit group based in Ithaca that has worked, since 1989, to conserve the region's farmlands and undeveloped green areas through purchasing land and creating nature preservation areas or facilitating conservation easements on privately owned land. To date they have protected 15,000 acres in 12 counties and manage 30 conservation areas and 100 conservation easements, according to a press release.
The trust has a deal in place to purchase 200 acres of land from Bill and Leonard Burns – who own about 800 acres in the area that is mostly used as farmland. Though the land does not include any shoreline, it is has hills and cliffs that overlook the lake.
(Continued on Next Page)
Prev Next
Vote on this Story by clicking on the Icon