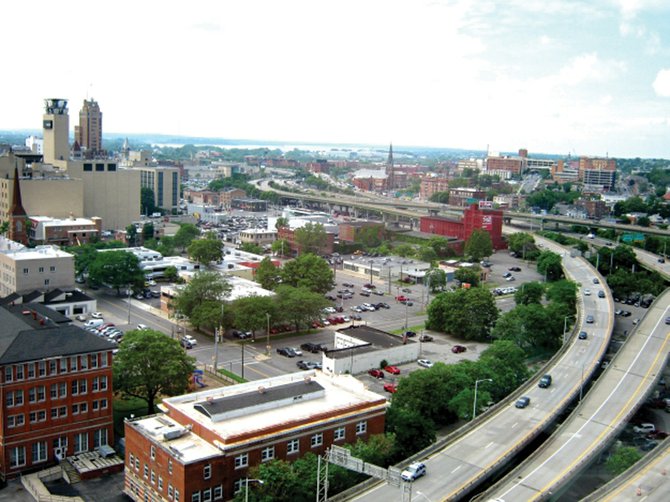 continued — "We've always said that any reconstruction is going to make the bridge look very different than it does today," she said. "Choosing the strategy is separate from determining the aesthetics. The iconic bridge is a real possibility, but first we need a basic decision on what strategy we'll go with and how it will function. Then we can go to the community again to discuss the aesthetics."
The main thing the new structure must accomplish, Vitale said, is to meet the desires of the public.
"We've asked what people want to see, and the number one answer is economic development. They want to see something that's going to bring economic development to the area," she said. "Also, they appreciate that it's easy to get around and it's quick to get places, and people want to maintain that. So they're pretty open to a variety of options as long as it does those two things."
Indeed, the SMTC has held a couple of meetings on the subject trying to encourage public input. Vitale said about 500 people attended the last one.
However, all of those meetings took place in the city. As such, Rapp, in conjunction with Salina Supervisor Mark Nicotra and Cicero Supervisor Jim Corl, held a meeting May 1 at the Holiday Inn in Liverpool to get more input from suburban residents.
"When I-81 was first built in the 1960s the biggest complaint heard was that there had not been enough public input," Rapp told the more than 100 people in attendance. "This time, Central New Yorkers have plenty of opportunity for input and you can continue to have input."
James D'Agostino, director of the SMTC, urged local citizens to attend the third major public meeting regarding The I-81 Challenge, from 3:30 to 8 p.m. on Tuesday, May 21, at the OnCenter Ballroom, 800 S. State., St., downtown. "Just drop in any time during those hours that's convenient for you," he said.
Vote on this Story by clicking on the Icon