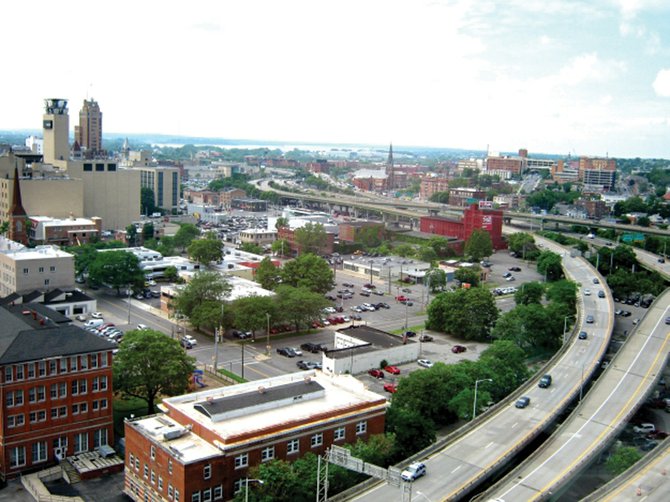 SYRACUSE — Five years from now, the Syracuse skyline could look very different.
Instead of an elevated highway heading into the city, the New York State Department of Transportation could construct an arterial boulevard. Or an underground tunnel. Or an iconic bridge.
Truthfully, the DOT isn't sure yet what the new Interstate 81 will look like. They just know that something needs to be done to replace the existing structure.
"Bridges are designed to last for a certain period of time," said Beau Duffy, public information officer for the NYS DOT. "The I-81 viaduct in Syracuse is reaching this point in time. Because repair and refurbishment of the bridge involves a significant investment, it makes sense, from a cost-benefit perspective, to look at potential alternatives for the future of the corridor."
I-81 was constructed in the late 1950s and early 1960s. Transportation experts say the structure, especially the 1.4-mile bridge over the city known as the viaduct, is reaching the end of its useful life.
"It's an old piece of infrastructure. Something needs to be done," said Meghan Vitale, principal transportation planner for the Syracuse Metropolitan Transportation Council, which is working to educate the public on the issue. "I don't want to say that it's necessary that we replace it right now, but it is necessary for something to happen with the viaduct structure."
Vitale said the DOT has considered several options for the reconstruction, including rehabilitating the current bridge, tearing it down and rebuilding it, tearing it down and replacing it with a tunnel or depressed highway under the city or tearing it down and replacing it with an urban boulevard through the city.
But Onondaga County Legislator Kathy Rapp, who represents the fifth district (parts of the towns of Salina and DeWitt), said the choice is likely going to be between a new bridge and the urban boulevard.
(Continued on Next Page)
Prev Next
Vote on this Story by clicking on the Icon