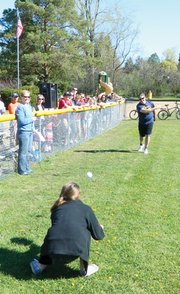 Cazenovia — The Cazenovia Baseball Softball Association celebrated its Opening Day last Saturday, May 4, at the Burton Street fields. The event began with a parade of the two softball teams and the eight baseball teams — all players from grades three through six — from the elementary school to the fields, led by a Cazenovia Fire Department truck.
"It's a perfect day for baseball," said CBSA President Sherry Kellish, as she welcomed the 250 players, their coaches and family members to the event on a warm, sunny day. "Our program has grown by leaps and bounds and has made our school program very strong."
Five seventh-grade members of the school's acapella group, The Caz AcaDemics, opened the day with a rendition of the National Anthem, followed by the closing lines of "Take me out to the ballgame."
Association member John LaGorga threw out the first pitch – softball style – to his daughter Lydia, after which the teams took to the fields for their first games of the season.
In addition to the teams that began their season last Saturday, the Cazenovia Baseball Softball Association also has a Babe Ruth league, for players in grades seven through 10, and its Kindergarten through grade three league. Those leagues have not started their season yet, and are still open for registration.
The association is also seeking any parents interested in becoming members or additions to its board of directors, Kellish said.
For more information, visit the association's website at cazbaseballsoftball.org.
A photo album of the May 4 opening day ceremonies can be viewed at Facebook.com/cazrepublican.
Jason Emerson is editor of the Cazenovia Republican. He can be reached at editor@cazenoviarepublican.com.
Vote on this Story by clicking on the Icon