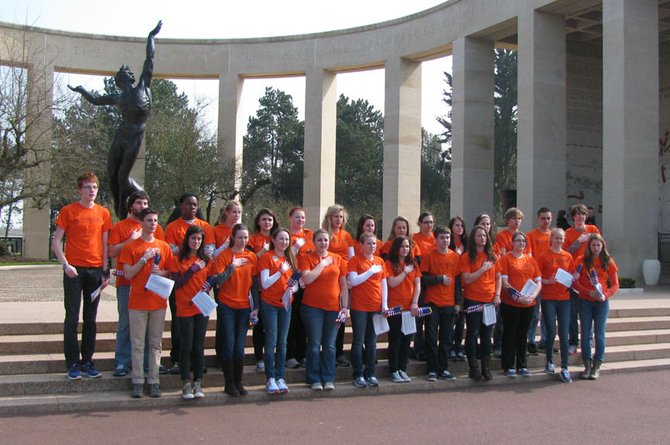 Baldwinsville — In 2011, the commissioner of the American Cemetery in Colleville-sur Mer, Normandy told us that we should have informed them that the students from Baldwinsville were coming with their 1,200 messages of gratitude so that they could have been welcomed properly. So, this time, we did just that.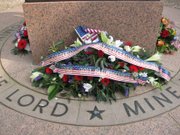 True to their word, they were there to greet the 27 Baker High School students who arrived there on March 30 during their 10-day tour of France. The students gathered in front of the bronze statue of the Spirit of American Youth, beneath the inscription: "This embattled shore, portal of freedom, is forever hallowed by the ideals, the valor, and the sacrifices of our fellow countrymen."
They faced the reflecting pool and began their ceremony, dedicating it to Marine Cpl. Kyle Schneider, who graduated from Baker in 2006 and who was killed in action in Afghanistan in 2011. After the Pledge of Allegiance, Joanna Damiano, Jenny Hall, Tessa Minardi and Katie Schumacher joined David Magowan in his arrangement of the Star Spangled Banner. The group then individually recited a portion of the Nobel Prize acceptance speech delivered by President Obama in 2009, concluding in unison: "We can acknowledge that oppression will always be with us and still strive for justice. We can admit the intractability of depravation and still strive for dignity. We can understand that there will be war and still strive for peace. We can do that - for that is the story of human progress; that is the hope of all the world; and at this moment of challenge, that must be our work here on Earth."
They then laid a wreath of red, white and blue flowers with a ribbon inscribed with Kyle's name at the foot of the statue of the Spirit of American Youth, and placed in front of it a stone brought with them from the grounds of Baker. As the wreath was laid, a 21-gun salute began, followed by Taps and ending the ceremony with the chapel bells ringing out The Star Spangled Banner.
(Continued on Next Page)
Prev Next
Vote on this Story by clicking on the Icon