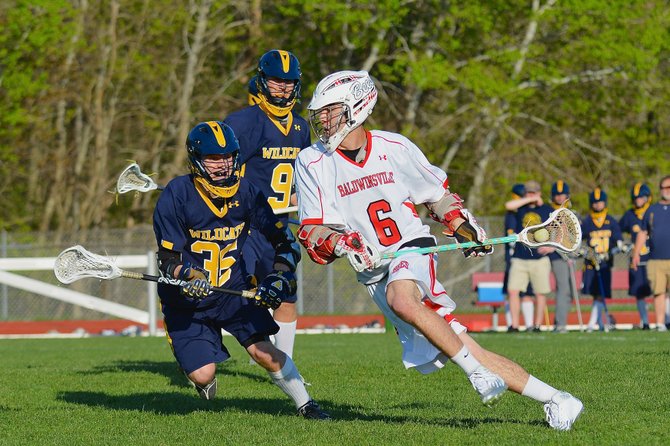 Baldwinsville — Even though the Baldwinsville boys lacrosse team was charging toward the regular-season homestretch, it would mean much more if it could take out a long-time nemesis like West Genesee.
That opportunity presented itself last Friday night at Pelcher-Arcaro Stadium. The Wildcats, trying to make its own late-season push after a poor (by its standards) 5-4 start, arrived and took the Bees' best shot, but again WG came out on top by a score of 9-6.
As modest as the start looked, it would prove quite important. B'ville had a difficult time gaining possession, a no-no against the Wildcats, who pride itself on long possessions, patient offense and taking care of the ball, minimizing turnovers.
So when the Bees trailed 3-1 after one period, the concern was, perhaps, greater than normal. There was good reason, too, for even though B'ville cut the margin to 4-3 by halftime, it could not put together any kind of sustained run.
Sensing this, WG made a decisive push in the third quarter, doubling up the Bees 4-2 to extend the margin to 8-5, and again leaned on its defense to close things out.
Sean Barron and Austin McAskill scored twice for B'ville, with Steve Petrelli getting one goal and one assist. Kyle Akers earned the other goal as Parker Ferrigan piled up 22 saves. Ted Glesener led WG's attack with three goals and two assists.
Earlier in the week, B'ville shook off a poor start at Cicero-North Syracuse and took over in the game's middle stages, going on to beat the Northstars 12-4 at Bragman Stadium.
The Bees trailed, 2-0, after a quiet opening period, but its deep, multi-pronged attack started to break through against C-NS in the second quarter, quickly erasing that deficit and producing a 4-2 edge at the break.
Yet it wasn't decided until the third quarter, when B'ville went on a 6-1 tear, the attack centered around McAskill and Cody Luke, who produced matching three-goal hat tricks.
Barron added a goal and three assists, with Petrelli also earning three assists. Five others – Ronnie Bertrand, Nate Rutkowski, Billy Hamm, Scott Kirchner and Zach Bulak – found the net, and Ferrigan was superb in goal, recording 13 saves.
Aside from going to Oswego on Thursday, the Bees (8-5) also make up the snowed-out April 2 game with defending Class A champion Liverpool next Saturday at 12:30, the last major hurdle before B'ville goes into the Section III playoffs.
Vote on this Story by clicking on the Icon