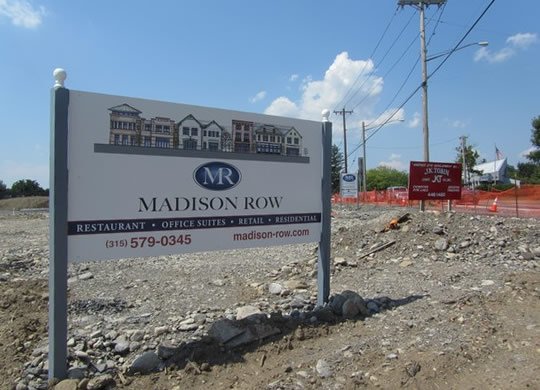 continued — The village board voted to extend the Planned Unit Development (PUD) to June 1 for Madison Row at its March 26 meeting in order to assure that the land would not revert back to its original zoning district, which was all residential. Once Morgan Management gets the okay from the planning board, it will have to present to the village board. Once the village board approves the plan, they will be ready to begin construction. Whorrall said it all depends on the boards' decisions, but that the developer hopes to begin work in July.
But he believes that if the project does not get off the ground now, it probably never will.
"If that project gets started, others will follow," he said. "If it doesn't go though, I don't think we'll ever get anything in there and it'll sit like that for a long time. Word will get out there among the developers and they'll say 'don't even bother trying to go to Manlius because they're not going to allow you to do this, you're wasting your time and effort.'"
For Whorrall, perhaps the best thing about Madison Row is that he believes the project will kick start a wave of new businesses flocking to the village. He said knows people who are willing to tear down the old bottle return center across from Sno Top, which was closed after a fire last year, and build a new store.
"Hopefully, the burned building will be bought and torn down," he said. "You can't leave a burned building on the main street in the village. But one project has to go through before the next. Once Madison Row happens, it'll all take off."
Vote on this Story by clicking on the Icon