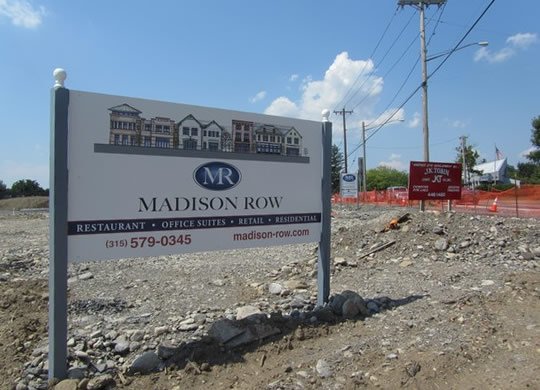 continued — "Everyone says 'We don't need another drugstore,'" Whorrall said. "Well, no project goes into place without an anchor because other businesses need a store that will draw people in. If you don't have something to draw people to, then it's hit or miss."
He's comparing the project to Towne Center in Fayetteville, and said the drugstore will be like the Target in Fayetteville- a store that sells things that will pull in people from other areas.
"That's the problem here in Manlius," Whorrall said. "There isn't a draw to bring people to Manlius like [in Fayetteville with] the Towne Center. If you come to Manlius to eat, you come to Manlius just to eat. It's not that Manlius doesn't have the money to get some of the restaurants like Fayetteville has, it's that the restaurants don't want to come because people don't frequent the area because there's nothing else to go to. People are going to go where there's options."
He said that Morgan Management has already hinted at some restaurants interested in coming to Manlius, including a high-end yogurt shop, a nice Mexican restaurant and an ale house/restaurant, similar to Gordon Biersch in Destiny USA. He said customers will be able to enjoy their food outdoors on patios and balconies, and above the restaurants will be boutique shops, office space and apartments.
"Coming into Manlius, it'll be nice to see that," Whorrall said. "There'll be people that will oppose it, but the reason we have a four percent increase in our taxes is because we've got no businesses, nothing drawing money into this place. The residential homes are not drawing the money that we need to keep our village going."
Representatives from Morgan Management already presented their ideas to the planning board in mid-April and are set to come back with the revised plans at the board's May 7 meeting. Whorrall said the most controversial aspect of the project is the proposed pick up window at the pharmacy. He stressed that a pick up window is not the same as a drive through because customers will have already called in their prescriptions and there will be little to no wait. He said it'll be a good addition for the elderly and parents with sick young children who won't have to get out of the car.
Vote on this Story by clicking on the Icon