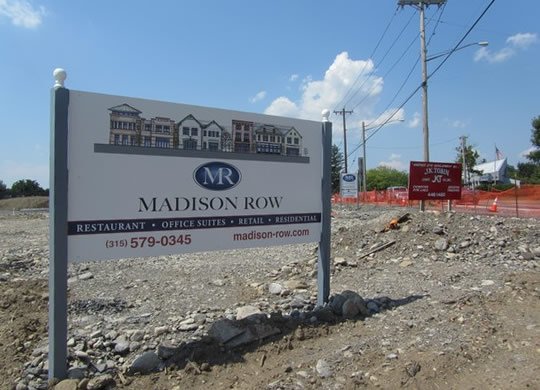 Manlius — When driving into the village of Manlius via Route 92, it's impossible not to notice the wasteland at the intersection of Highbridge and F-M roads which greets visitors to the village with dirt, rubble and weeds. As most residents know, the site is planned to be the future home of Madison Row, a $5 million retail, office and residential project which was first proposed in 2009. Many have given up hope that anything will come of the development after three years of passing by the site and seeing no progress made. But Manlius Mayor Paul Whorrall said he's been making moves to assure the project will get off the ground this summer.
Madison Row was first proposed by former Manlius Mayor Mark-Paul Serafin and was composed of two phases. Phase 1, which was the plan for a Key Bank, was completed in the fall of 2012. But since then, residents have been scratching their heads as to why no progress was made on phase 2.
When Whorrall announced his candidacy for mayor, one of the platforms of his campaign was to get the project going. Amidst the rumors that the developer did not have funding to complete the project, Whorrall decided to take things into his own hands and met with a new developer, Morgan Management, from Rochester. He secured the new developer during the first week after he was elected. Morgan Management assured him they had the necessary funds and had interested businesses already lined up to fill the proposed retail space.
Whorrall said the anchor for the project will be a new drugstore. And while he knows that Manlius has an abundance of drugstores already, he said that without an anchor business that is willing to commit, other stores will simply not be interested in becoming a part of Madison Row.
(Continued on Next Page)
Prev Next
Vote on this Story by clicking on the Icon