About 50 local youth participated in a 30-hour juice fast last week to raise money and awareness for poor living conditions and poverty abroad.
The event, organized through inter-church group Community Youth in Action, was a part of the "30 Hour Famine" event organized by international charity World Vision.
All proceeds from the Skaneateles event went to benefit South Sudan, due to the village's relationship with South Sudanese village Duk Payuel.
The event went from Friday, April 26 to Saturday, April 27, participants ranging from grades six through 12, were able to drink juice and water to stay hydrated and have some energy, but were charged with the challenge of not having food for 30 hours, event organizer Collen Smith said.
The reason for the fast is to allow them to walk a mile in the shoes of people who lived in impoverished conditions, and motivate them to try and make a difference, Smith said.
"I always want the kids to feel like they can do something, just because they are young doesn't mean they can't make a difference," she said.
The event included learning about living conditions in places like South Sudan, where people aren't always fortunate enough to have food and shelter like in Skaneateles. There was a carnival Friday, a sleepover at St. James Episcopal Church, a time when the participants made bologna sandwiches to send to the Samaritan Center in Syracuse, a charity car wash and ending with a dinner to break the fast Saturday evening.
One of the highlights of the two-day event, was a challenge held at Thayer Park for which participants, split into multiple "tribes" had to construct a "shanty town" of shelters made mainly from cardboard boxes and packing tape.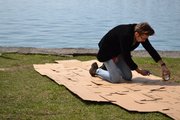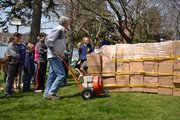 Though many of the events, such as the shanty town were kept a secret from the participants, many of them had done the event in the past. This was the second year that they did the shanty town challenge, Smith said.
(Continued on Next Page)
Prev Next
Vote on this Story by clicking on the Icon