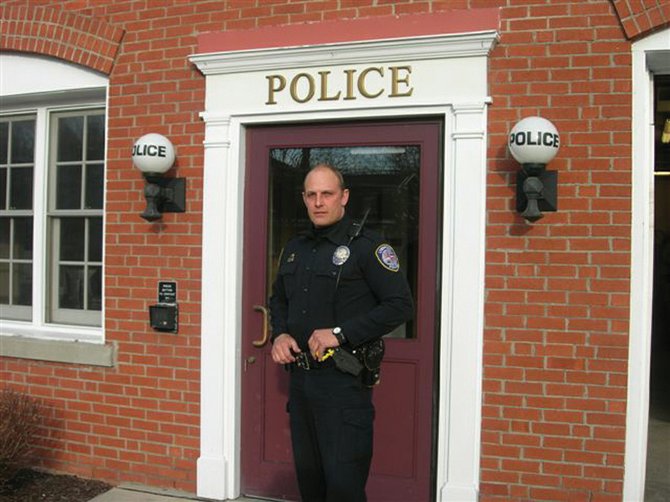 Liverpool — The crime occurred near Buffalo. The perp's vehicle had been rented in Fulton. The suspect's family lived in Syracuse.
In spite of the disparate locales involved, Liverpool Police Officer Jerry Unger played a crucial role in cracking the case.
It all started about 5:30 p.m. on Sunday, Nov. 4, 2012, when two women and a man were seen shoplifting at the Abercrombie & Fitch clothing store at Boulevard Mall in Amherst. Outside the mall, the male suspect pulled out a four-inch knife and lunged at two store security guards, cutting them both.
Family man
On Sept. 15, 2012, six weeks before he helped solve the Amherst assault case, Liverpool Police Officer Jerry Unger and his longtime girlfriend, Carrie Bond, welcomed their first son into the world.
Evan James Unger has a sister, 11-year-old Brooke, who held the Bible when her father was sworn in as a police officer at the Village Hall in June 2009.
One guard sustained a three-inch gash on his neck and the other was stabbed in the hip.
Despite their injuries, the guards jotted down the license plate number on the suspect's car.
Town of Amherst Police tracked the vehicle, a Nissan Versa, to a motel in Tonawanda and impounded the car.
Meanwhile, on Monday, Nov. 5, a Syracuse woman who had rented the Nissan from Rent-A-Ride in Fulton, called the Rent-A-Ride office at 318 Oswego St. in Liverpool.
A Rent-A-Ride employee here alerted Amherst detectives that the woman planned to return the rented vehicle's keys.
"She was going to return the keys," reported Amherst Police Chief John Askey, "even though the rental car was in our custody."
Det. Dan Quinlan called Liverpool Police and Officer Unger, a former Navy Seal who joined the LPD in 2009, answered the phone.
"Jerry just ran with it," said Liverpool Police Chief Don Morris.
(Continued on Next Page)
Prev Next
Vote on this Story by clicking on the Icon