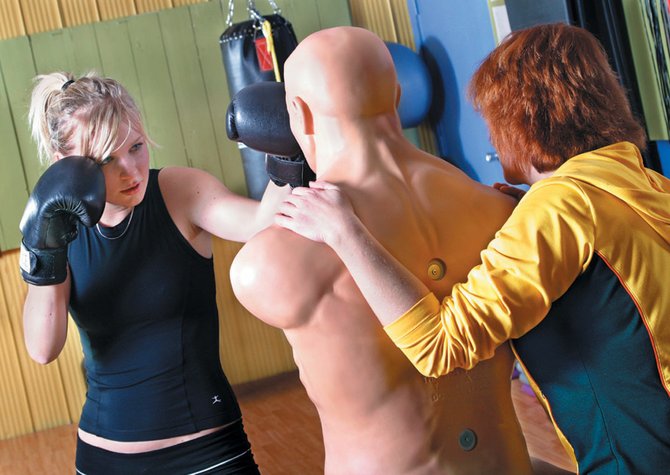 continued — "It is important for everyone to learn self-defense, but especially women," Annable said. "Assailants generally believe the stereotype that women are weaker and will be more passive and not fight back. The best thing to do is take steps to prevent crime in the first place. Criminals mainly choose targets which appear to be vulnerable and unaware of their surroundings."
Karate John's will offer a free self-defense workshop for women from 2:30 to 3:30 p.m. Saturday, April 6. The studio offers the course annually.
"The techniques taught in these classes are practical, empty-hand techniques [meaning the techniques don't use a weapon] that rely on principles of timing and leverage, not size or weight," Annable said. "Tthese moves could really help save a life. Studies show that 'forceful resistance' works. You would try to defend your child, so why wouldn't you try to defend yourself? Pleading, crying, not resisting, is less effective. Women who fight back are statistically injured less and feel better about themselves afterwards."
But Feidt emphasized that these introductory courses should not convince women that they're ready to take on an attacker.
"We're only touching on the surface. It takes years of training to really master the moves," he said. "But there are three basic tenets that we teach. Awareness is number one. Number two is confidence, and the third is your personal skills, the moves and the stances. The first two can be taught relatively quickly. Those two can get you out of and prevent a lot of situations from getting to that point. The third are the self-defense skills, and it takes a lot of training to get to that point. I wouldn't want to give anyone false confidence."
Feidt emphasized that awareness is key.
"Be aware of your surroundings," he said. "That's number one. That's preventative. Like anything else, prevention is the best remedy."
Vote on this Story by clicking on the Icon