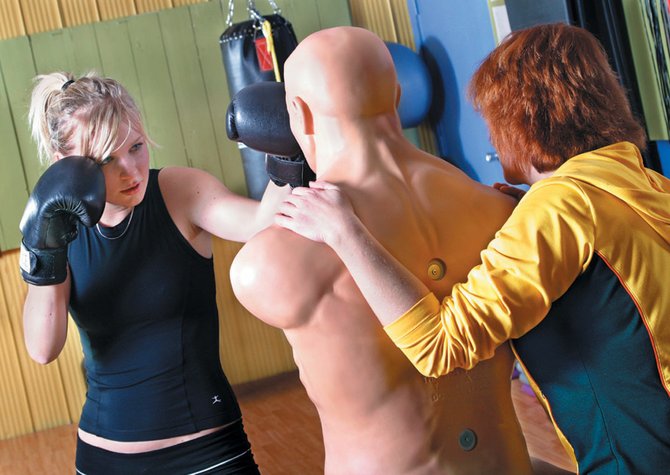 Clay — After a woman was murdered and a child raped at knifepoint at Great Northern Mall March 14, residents have been clamoring for a way to protect themselves. A number of free classes have been introduced to help women, in particular, learn techniques to use in a similar situation.
But the free self-defense classes provided by some local martial arts studios aren't new offerings in response to the tragedy. Both Impact Martial Arts and Karate John's have offered free women's self-defense classes for years.
"We've been doing this for 20 years," said Shihan Theron Feidt, who operates an Impact Martial Arts studio at Great Northern Mall and another in Clay. "In light of what has happened, we had 150 calls between two days, not including emails and Facebook and all that requesting something like this. The unfortunate thing is that, one the day before the incident happened, we had eight people in class. [On Wednesday, March 20] there were more than 100. It's unfortunate that something like this had to happen for people to take action."
Feidt's Great Northern Mall studio offers free classes for women from 6 to 7 p.m. every Wednesday. The course is a series, so participants can join at any time. Students learn Krav Maga, the Israeli system of self-defense used to train the U.S. military and police. Feidt himself is a sixth-degree black belt and a certified Krav Maga instructor who has been involved in martial arts for more than 30 years.
"You are the only one that can protect yourself," he said. "You're always with you. Weapons can help, but you can lose them, or if you get surprised… But you always have your body. That's why you have to take these steps first and not rely on anything or anyone else."
Sensei John Annable of Karate John's Martial Arts Center in Cicero agreed.
(Continued on Next Page)
Prev Next
Vote on this Story by clicking on the Icon