Cazenovia — At some point during the 19th century, the gun cabinet in the front hallway of Lorenzo was shot with a .30 caliber pistol. The 18th century sofa in the formal dining room not only has remnants of its original upholstery on it, but is a nearly-unique fold-out bed and one of only a handful in the entire country to still exist in such good condition. And numerous pieces of Lorenzo's furniture are inscribed not only with Lincklaen family names and initials, but also of the local Cazenovia furniture makers who crafted the pieces.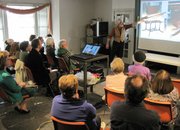 These are just a few of the curatorial discoveries found by state history conservators and shared last week with the docents of Lorenzo State Historic Site as they returned to the site to prepare for the upcoming 2013 tourist season.
"This is one of the greatest furniture collections in all of New York state," said David Bayne, furniture conservator for the New York State Bureau of Historic Sites. "Lorenzo is one of the crown jewels in the New York state collection."
Lorenzo was built in 1808 by John Lincklaen, one of the founders of Cazenovia. His family owned and lived in the house until 1967, and nearly every item in the house is original to the home and to the Ledyard Lincklaen family.
During his March 18 presentation, "Discoveries in Lorenzo Furniture," Bayne explained some of his more exciting curatorial finds in the Lorenzo collection, or what he called, "things you don't see on the regular tours," saying they were stories that can add interest and spice to the interpretation of Lorenzo.
Perhaps the most exciting and important discovery at Lorenzo involved the formal dining rom camelback sofa, which dates to about 1760. It was covered in green velvet in the 1930s, although a 1906 photograph showed the piece to have an arts and crafts-inspired patterned upholstery.
(Continued on Next Page)
Prev Next
Vote on this Story by clicking on the Icon