The county will be doing road work in Skaneateles next summer which could mean possible road closings.
The Onondaga County Department of Transportation is planning to rebuild a bridge on Jordan Road in Skaneateles Falls in 2014. The county held a public information meeting about the project on Tuesday, March 26 at the Skaneateles American Legion Post at which residents raised concerns about road closings, detour routes and potential pollution in the creek.
Construction is planned to begin in late spring of 2014 and be finished by the fall, though the transportation department needs public input now as it makes designs and plans for the project. The total cost of the project is estimated to be $1.2 million, according to the county.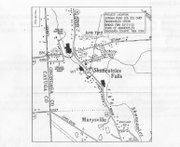 The bridge, which goes over Skaneateles Creek on Jordan Road about 200 feet south of the Skaneateles Falls post office, will have to be rehabilitated or possibly completely replaced Benjamin Choroser, an engineering consultant for the project, said.
The bridge repair is not an urgent matter, but due to its age, it is wise for the county to fix it before it becomes a problem, Choroser said.
Also present at the meeting was Charles Liggett another engineering consultant, Mark Premo, deputy commissioner of the transportation department and Paul Hood and Viktor Makarchuk, county civil engineers.
The bridge is over 100 years old, though its concrete arch was widened in 1972. The new bridge will be designed to last at least 75 years, will have wider shoulders – at least five feet on each side – and would provide a larger opening underneath to accommodate for high water levels during storms.
The crews will also tear down the old wooden railroad bridge that is adjacent to the road bridge since it prohibits the flow of the stream.
The current plan calls for the road to be closed and detour signs to be put up, though the county may still consider a "staged construction" where it would keep one lane of the bridge open at all times for vehicle and pedestrian traffic, Hood said.
(Continued on Next Page)
Prev Next
Vote on this Story by clicking on the Icon