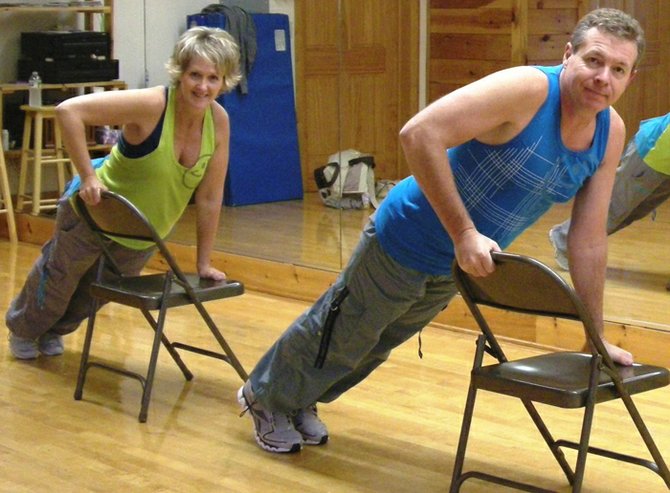 continued — Sawyer and Scholefield, who live in Cazenovia, are trying to promote their Zumba classes not just as exercise programs but even as a night out for couples. They are currently thinking of creating specific couples classes one night a month, "like a date night," they said.
Sawyer and Scholefield currently teach classes at Joy's Dance Studio in Hamilton three nights a week, and also at the Cazenovia American Legion Post 88 twice a week. They offer three different types of Zumba: basic, Sentao (which is chair-based choreography) and a mixed class of basic, Sentao and toning.
The couple has recently gone national after being the subject a short profile in Z Life magazine, and one of Sawyer's recipes has been published in the "Zumba Lover's Cookbook."
On Saturday, April 27, the couple will also participate in a Zumbathon fundraiser to fight cancer at Morrisville State College. There will be a one-hour Zumba class and, after a short break, Zumba Sentao master class, both for a suggested donation of $20. All proceeds will be donated to the Carol M. Baldwin Breast Cancer Research Foundation. The couple has pledged to raise $5,000.
For more information on Sawyer and Scholefield and their Zumba classes, visit Cory Sawyer's personal Facebook page or the "Zumba Fitness with Cory and Jim," Facebook page, or call 832-0579.
Jason Emerson is editor of the Cazenovia Republican. He can be reached at editor@cazenoviarepublican.com.
Vote on this Story by clicking on the Icon