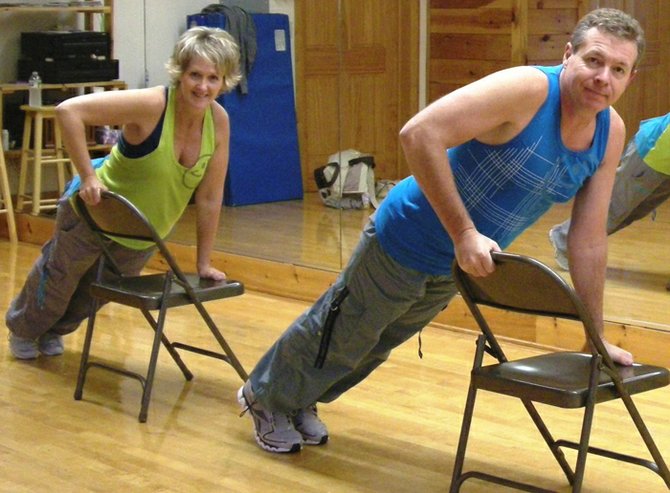 Cazenovia — Cory Sawyer and Jim Scholefield met in January 2012 in Sawyer's Zumba class in Hamilton. By June they were engaged and now, a little more than one year later, they team-teach Zumba fitness programs in Hamilton and Cazenovia. Their passion: to promote the Zumba lifestyle to as many people — and couples — as they can.
"We're trying to break this paradigm that it's dancing just for women," Scholefield said. "It's a fantastic workout, very physically demanding. When I started it was nothing like I thought it would be."
Zumba Fitness, or the Zumba Program, is a Colombian dance fitness program created by dancer and choreographer Alberto Perez during the 1990s. Zumba's choreography incorporates hip-hop, soca, samba, salsa, merengue, mambo, martial arts and some Bollywood and belly dance moves. Approximately 14 million people take weekly Zumba classes in more than 140,000 locations across more than 150 countries, according to Zumba.com.
Sawyer and Scholefield's Zumba classes are unique because of their team approach. "We're the only ones doing it right now within 50 miles of Cazenovia," Sawyer said. While Scholefield typically leads the class, Sawyer, who is a certified aerobic and fitness instructor, walks around the group and helps individuals focus on proper technique and lends encouragement to beginners.
"You don't have to be a dancer to do this," Scholefield said. "A lot of people say, 'I'm not coordinated enough,' but within a few weeks they have a very different perspective."
Zumba is also not a women's-only program, Sawyer said. Men are always very welcomed into Zumba classes, they just typically do not come out of a sense of embarrassment, she said. "We run into so many brick walls [getting people to exercise], this shouldn't be one," Sawyer said. "Jim's Mr. Popularity."
"I was more like a hero than a zero," Scholefield said of his first few Zumba classes.
(Continued on Next Page)
Prev Next
Vote on this Story by clicking on the Icon