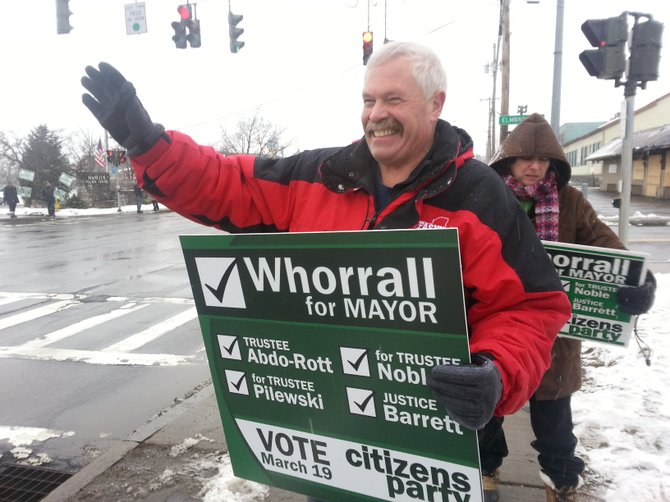 Manlius — Paul Whorrall and his Citizens' Party easily beat out Mark- Paul Serafin and the Vision Party Tuesday night in what will most likely go down in Manlius village history as one of the most controversial elections ever. Whorrall topped Serafin 869 votes to 198 votes in an election that saw a tremendous voter turnout in the village.
"Not only did we win, but we buried them," Whorrall said to crowd of about 50 supporters at Bella Cigna restaurant after the election. "The community showed that they'd had enough. I think that Manlius was going down the tube and we will bring it back. We'll bring it back to the respectability it had years ago."
He went on to say that there was a lot of mudslinging being directed at him, his family and the Citizens' Party during the campaign. Whorrall said that at times, it was hard not to respond, but he believes the Citizens' Party's decision to stay positive helped them in the end.
"You have to stay true to what you're doing," Whorrall said. "Because once you throw mud, not only does it get ugly but you lose the respect of the people voting. I feel that the mud and filth that they threw at us buried them."
Whorrall said his first priority as mayor is to sit down with the village board members and make it clear that they will be working together as a team for the next four years, which he feels is necessary to accomplish the jobs that need to be done in the village. He then plans to look ahead towards solving the parking issue and bringing business into the village through the Madison Row project, which just secured a new developer for phase two earlier this week.
Mark Noble, Tom Pilewski, and Janice Abdo-Rott were elected village trustees with vote counts of 832, 811 and 750, respectively. They beat out incumbent Eric Krouse with 283 votes, Bill Moran with 246 votes and Paul Lane with 205 votes.
(Continued on Next Page)
Prev Next
Vote on this Story by clicking on the Icon