The feis was held in Shanghai, only a two-hour bus-ride from Zhangjiagang, and attracted hundreds of competitors, both adult and child, from Asian countries including China, Korea, Japan, Taiwan and also from other continents including North America, Europe and Australia, Hoselton said.
The competition was hard work because the students had to learn new dances with both soft and hard shoes. Hard shoes are the Irish dance equivalent of tap shoes, as they have fiberglass tips. The competition was also a little expensive for the students because they had to buy two pairs of shoes, a costume for competition and pay for tournament fees, but she was still able to bring 15 of her students.
Hoselton started studying Irish dance at age 15 under Amy Markwardt at the McDonald School of Irish Dance in 2001, when it opened for business in Skaneateles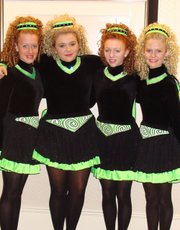 Hoselton competed in the highest division for Irish Dance competition in the U.S. while studying at the McDonald School. After graduating from Skaneateles High School in 2005, she continued to compete through college and before she went away to China she was working as an assistant at the school, while also still competing some on the side.
"She has done an amazing job of presenting Irish Dance and herself while living in China," Markwardt said, who keeps in touch with Hoselton through emails.
Markwardt runs the McDonald School on her own after splitting with her two former partners in December of 2012, who now run the Rosin Academy of Irish Dance. She considers the Skaneateles YMCA to be the school's headquarters since she does not have her own building, and also teaches classes in Syracuse, Lafayette and Manlius.
The great interest in Irish dance has led to eight schools operating in the Syracuse area. Markwardt said she feels no need to advertise or compete for business with the other schools because interest is high.
Vote on this Story by clicking on the Icon