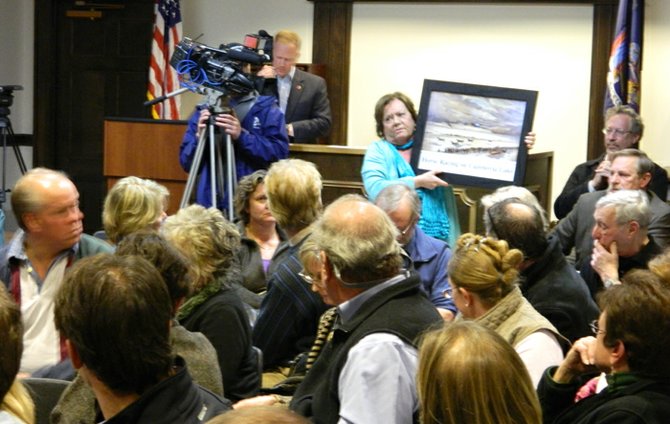 continued — "We're not trying to shut the project down," she said, but they are concerned about moving the project forward in a way that is best for their family and for the community.
The Menacho's attorney, Douglas Zamelis, also raised a number of concerns to the planning board, the first of which was that "This project is already being discussed as a fait accompli," despite the fact that the zoning request has not even been approved yet, he said. That requested zone change is not some minor vote but a major issue that must be carefully considered by the planning board, he said, adding that the integrity of the zoning law is more important than promoting agri-business as stated in the village and town Comprehensive Plan.
The issue broached most at the meeting was concern about the building design, with opponents claiming the building is a large, unattractive "industrial warehouse" and not a small, historically charming "farmstead brewery" as Empire owner David Katleski has promised.
Longtime Cazenovia summer resident Hugh Emery said "This is an industrial facility, not some little mom and pop thing," as he was led to believe; while resident Stanley Maziuk said he envisioned the business to be "a boutique operation" about the size and look of the Gothic Cottage, "but the scope of it is more than I initially perceived."
After about an hour of public comments, Katleski stood up and said he felt "compelled" to defend the project.
"It's being made out to be a massive brewery, and it's not," he said, adding that it is only one-third the size of the state definition of an industrial brewery, which is 60,000 barrels per year.
Katleski said that if there are any odors from the brewery they would be "minimal" at best, since the facility will have state-of-the-art equipment and techniques to mitigate or eliminate brewing odors. He said that in 18 years of brewing at his Armory Square location in downtown Syracuse, they have never had one complaint about the smell.
Vote on this Story by clicking on the Icon