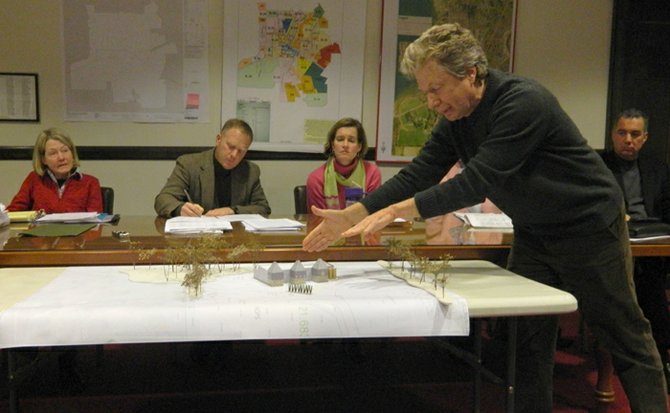 continued — The main building will be 33-feet high in the front and 36-feet high in the back, with each hop house measuring 50 feet tall, Katleski said. The front façade of the brewery will have a historic hops barn look with stone bases, weathered-board uppers and a synthetic slate roof, while the sides and back will be wood and batten siding. Drawings, plans and a scale model of the proposed structure were laid out at the meeting for attendees to see and refer to, as were samples of the building façade materials.
The goal of the brewery is to brew 20,000 to 25,000 barrels per year, with 30,000 barrels being the maximum amount the new facility could handle, Katleski said. The brewery currently brews 4,500 barrels annually, he said.
Katleski said the law allows him to brew 60,000 barrels per year at the site, but the planned building infrastructure prohibits that.
When asked if he plans to expand to 60,000 barrels a year, Katleski responded that while he would certainly like his business to grow that much, to do so would require construction of a second brewery building on the site, which would necessitate a separate project development plan and application process through the village planning board and board of trustees, all of which would take years.
Concerns were raised by attendees about the possible bakery/restaurant component to the brewery, which project opponents fear would increase noise and odors emanating from the brewery, as well as traffic and visitation to the site.
Katleski said there is "not a major restaurant component" to his plans. He said he would like to be able offer brewery visitors something to eat during their visit, such as bread or pizza on the weekends. "It's a place we'll make a little bit of food to feed people on tours," he said, adding that it will be "minimal at best."
Vote on this Story by clicking on the Icon