St. James Episcopal Church in Skaneateles was temporarily turned into a hair salon last week, though the hair was being shaved off, not styled.
For the second year in a row, St. James was home to a St. Baldrick's charity event on Sunday, March 10. Volunteers got their heads shaved to raise money for the fight against childhood cancer.
About 65 people got their heads shaved and the event raised about $25,000, though not all the money had been counted at the time of the event, said event chair Dave Plogman.
Participants who raised at least $50 received a T-shirt and Plogman was also handing out buttons that said "Ask me why I'm bald" to help spread the word about the charity.
The event started with testimonials from two mothers whose sons are going through childhood cancer. Though they both received terminal diagnoses, they are currently living with no evidence of disease, thanks to experimental treatments that are supported by charities like St. Baldrick's.
Dr. Karol Kerr, an oncologist at Upstate Medical University Hospital in Syracuse also spoke. Kerr said that childhood cancers are the leading cause of disease related death in children in the U.S. and that private funding are essential for developing new treatments and working towards cures. She also said that the donations stay local.
"The money you donate, it doesn't wander far, it stays close to home. I personally have a St. Balrdick's grant at Upstate," she said.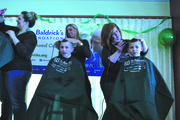 Many of the participants from the event came from Marcellus, where Plogman lives, including a couple teachers and 15 sixth graders from Marcellus Middle School, who called themselves the "Mowhawk Mustangs," because many of them decided to get mohawks rather than have their heads completely shaved.
Volunteers had their heads shaved six at a time by stylists who volunteered from Bijou Salon in Skaneateles, First Impressions in Marcellus and Indigo Hair Salon in Auburn.
(Continued on Next Page)
Prev Next
Vote on this Story by clicking on the Icon