Baldwinsville — The Baldwinsville Optimist Club is pleased to announce that Jacob Norton has been selected to be its Student of the Month of March.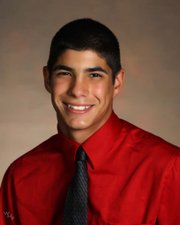 Norton is a senior at Baker High School who is an exemplary student athlete. He has consistently been on the academic honor roll earning him induction into the National Honor Society and the Junior National Honor Society. He is currently enrolled in Latin 5, participation in government and economics, accounting, physics, advanced placement calculus and production (construction technology). He is ranked 35th in his senior class of 458 students. He has been recognized by the College Board as an Advanced Placement Scholar for receiving a score of 3 or higher on four or more Advanced Placement exams.
Norton has earned over a 95 final grade point average and has received the scholar athlete award for his sophomore, junior and senior years having participated all four years in wrestling, football and baseball, which he plans to play in the spring of this year. Norton has won five CNYCL National League Championships (four wrestling, one football), two Section Three Championships (one wrestling, one baseball) and one regional title (baseball). Also, he was named to the 2012 All-League Team as an honorable mention in baseball. He wrestled varsity as a freshman as well, but played varsity for football and baseball during his junior and senior year campaigns.
In addition to playing sports and being in the National Honor Society, he is in the Latin Club for which this year he holds the office of secretary. During his sophomore and junior years he competed in the American Mathematical Challenge Math Contests.
In addition to his scholastic activities, he has participated in his community by volunteering for: The Relay for Life fundraising event to conquer cancer, the Reeves Fields (more than 50 hours), offseason baseball camps and clinics (more than 20 hours) and he was a Boys State delegate at SUNY Morrisville where he was appointed to the position of senator. He has donated blood to the Red Cross Blood Bank when the National Honor Society brought the bloodmobile to Baker High School.
(Continued on Next Page)
Prev Next
Vote on this Story by clicking on the Icon