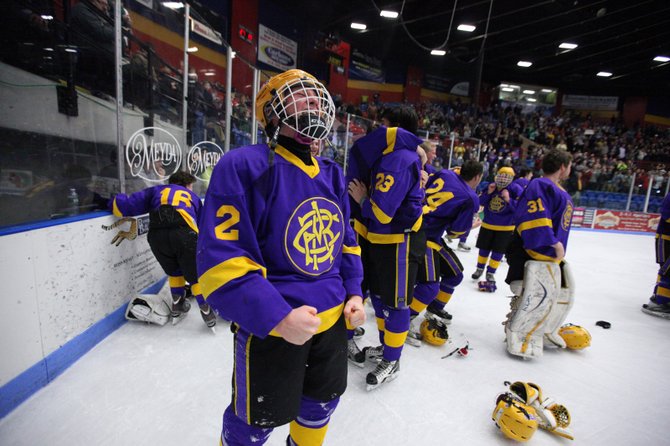 Early in the third period, CBA/J-D picked up a power play when JJ-CR's Connor Moore went off for head contact. Just 10 seconds later, Doust jumped on a rebound of Jed Raby's shot and put home the tying goal. Lucas Relkin also had an assist.
But Doust wasn't done. With 9:35 to play, just after Indians goalie Matt Lanza stuffed Pete Dziergas on a solo breakaway, Doust arrived in a two-on-one situation. off a pass from Kane Alletzhauser, Doust hit a perfect wrist shot that beat Lanza on the top side to put CBA/J-D in front 3-2.
Then it was up to Decker, Raby, Sam Mueller and the rest of the Brothers' defense to protect that lead. They did so, Decker finishing with 25 saves, and with Lanza pulled in the last minute, Drew Brooks, taking a pass from Doust, added the clincher into an empty net with 44.1 seconds left.
In many ways, Decker made sure JJ-CR didn't get the lead earlier than it did. He made a series of great stops on the Indians in the game's early stages as CBA/J-D struggled to get its own attack going.
Despite those few chances, the Brothers got a 1-0 lead 6:51 into the first period on Ryan Durkin's wrist shot from the right point, assisted by Mueller and captain Scott Firman.
For much of the second period, CBA/J-D stayed in front, despite JJ-CR unleashing constant attacks. Decker turned everything away until Frasier Bostwick scored at the 13:11 mark to tie it, 1-1, just before Grimm's go-ahead tally.
All that did, though, was create the perfect backdrop for the perfect - and fitting - ending to what Firman himself called a "Cinderella" run to the program's first-ever state championship.
"The story of this season is awesome," said Firman. "This is a bond that we will have for the rest of our lives. And the way we did it was nothing short of spectacular."
Vote on this Story by clicking on the Icon