Baldwinsville — Fifty years ago, members of the First Presbyterian Church of Baldwinsville placed a time capsule in the church's outer wall to celebrate its 150th birthday. On Jan. 13, the capsule was uncovered as the congregation kicked off the church's 200th anniversary celebration.
"We had a big birthday cake and balloons," said Carol Hovey, co-chair of the 200th Anniversary Committee.
The copper capsule was opened revealing three scrolls with newspaper clippings and programs of events sponsored by the church, video and audio recordings and more.
"We're very excited about the tapes," said Committee Co-chair Luella Oakes, adding they have yet to find equipment to review the recordings.
The oldest church in Baldwinsville, the First Presbyterian Church held its first worship service on July 13, 1813, in a barn near Squire Monro's Corner, which is the current intersection of Oswego and Oneida streets in the village.
The committee has a variety of events planned throughout the year including a Celtic program of instrumental music from Ireland, Scotland, Northumberland and Appalachia, which is scheduled for 2 p.m. this Sunday at the church. According to Hovey and Oakes, the Celtic celebration reflects the church's history and origin as the Presbyterian religion is of Scottish roots.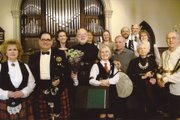 The March 10 concert will be held in the church sanctuary at 64 Oswego St. in Baldwinsville. Four musical groups will perform including The Ceilidh Connection and The Smallpipe Society, which are Scottish smallpipers who rehearse and perform in the Rochester and Syracuse areas, respectively. The third group, A Harmony of Harps, is a Baldwinsville group of folk or Celtic harpists that performs throughout Central New York. Lastly, Gadzekes! is a contra dance band whose instrumentation includes violin, concertina, accordion, piano, banjo, mandolin guitar, flute, harmonica, whistles, electric bass and smallpipes.
"There are about 50 musicians performing Sunday," Oakes said, adding refreshments would be available after the concert so spectators can mingle with the musicians. She also noted the event was open to the public and voluntary contributions would be accepted for the benefit of the Baldwinsville Food Pantry.
(Continued on Next Page)
Prev Next
Vote on this Story by clicking on the Icon