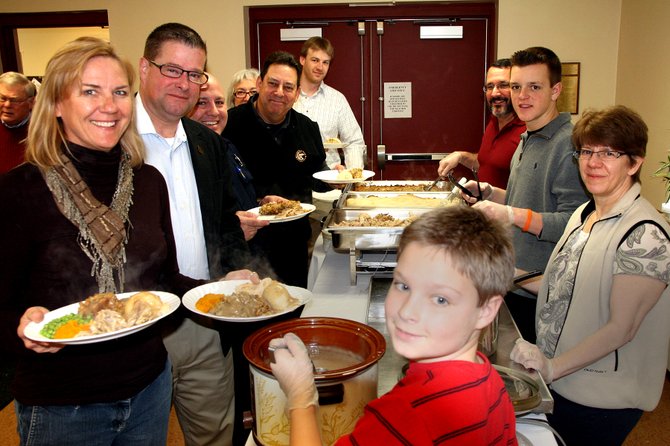 Fayetteville — It may be eight months to Thanksgiving, but nearly 140 people gathered at the Fayetteville senior center on Sunday, March 3 for a traditional Thanksgiving meal. Volunteers served turkey, stuffing, potatoes, cranberry sauce and apple pie to hungry guests for the benefit of the senior center. This year, the event raised nearly $4600.
The tradition was started 15 years ago by former Fayetteville mayor Henry McIntosh and was continued by current mayor Mark Olson nine years ago when he took office. Olson added a second meal to the event in order to include more people. The first meal, at noon, was for seniors and the second meal, at 2:30, was open to civic groups such as the chamber of commerce and the parks department. Olson said the turnout was better than last year, with 70 people attending each session.
He said there isn't a specific reason for holding a turkey dinner in March aside from the fact that for many, it's the highlight meal of the year.
"A lot of people love turkey and Thanksgiving dinner and it's a favorite meal for some," Olson said. "It's great food and a great place to have it- it feels like you're at home. It is a tradition I look forward to every year."
Vote on this Story by clicking on the Icon