Baldwinsville — Josiah Parish, a War of 1812 veteran, lies in an unmarked grave along Van Buren Road. There he is joined by 39 other pioneers of this area in what has long-been a forgotten cemetery.
Thanks to a local Boy Scout, these former residents will soon be commemorated with a monument featuring all of their names and marking the plot of land as the Hardscrabble Cemetery. To earn his Eagle Scout badge, Brandon Hart, a junior at Baker High School and member of Troop 107, has taken on the project with the help of Van Buren Councilor Howard Tupper, as well as many others.
"[Mr. Tupper] told me briefly about this cemetery and how the deceased should be memorialized. He then said that there is also possibly a war veteran buried there," Hart said. "I found it to be a major tragedy that the war veteran is not being memorialized."
According to Tupper, the Hardscrabble Cemetery "is a typical country burial ground except for the fact it was abandoned many years ago and the stones were laid flat by the town in the 1950s. Overgrown, they were plowed up by a former landowner who did not know what was there, or chose to ignore it."
The Hardscrabble cemetery got its name from the road it was named after, Hardscrabble Road. Now called Van Buren Road, the plot of land is located between the Route 690 overpass and Jones Road.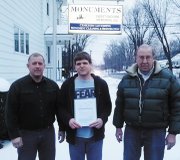 "The cemetery operated from 1805 until 1862 as a private graveyard and the association withered away with neglect for the yard becoming obvious," Tupper said. "Our intent is to commemorate those people with a new marker. The town will maintain it in perpetuity."
Van Buren officials recently authorized Hart to work on the Hardscrabble Cemetery Monument project. Tupper noted that Hart is looking for help from the community to find out more about the people who were buried there.
(Continued on Next Page)
Prev Next
Vote on this Story by clicking on the Icon