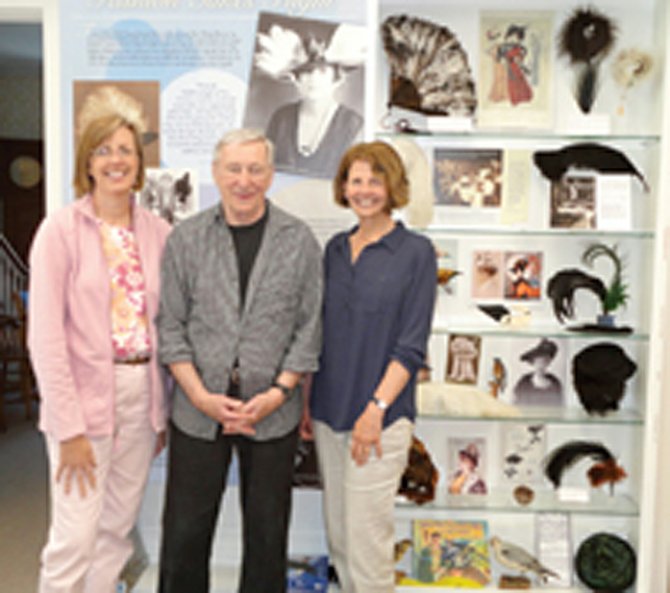 continued — Shotzberger and Hill started last October and spent the next nine months doing "an incredible amount" of research, finding information, antique feather hats and fans, photographs, and old advertisements for feather-centered fashions. This era of the "Plume Bloom," roughly from 1870 to 1920, featured a social obsession with hats piled high with wings, feathers, nests and even whole birds. The millinery industry thrived on immigrant labor plucking and pruning feathers. Millions of birds were slaughtered simply for this fashion craze, which eventually gave rise to preservation societies outraged by the mass killings.
"Originally we going to feature the Audubon society, the stuffed birds we had and the fashion piece, but then we came across the immigrant labor piece and we had to add that piece as well," Shotzberger said.
Some of the exhibit items came from the library's museum collections, some were purchased by Shotzberger and Hill off ebay, a few of the original feather-centered hats were purchased in New York City by exhibit contributor Jonathan Holstein and some items were donated by local residents.
Also in the exhibit are some books relating to this interesting Victorian fashion craze, such as Susan Langley's "Vintage Hats and Bonnets" and Kathryn Lasky's childrens book, "She's wearing a dead bird on her head."
The library currently has shelves of books for adults and children on birds, on preservation and on Victorian fashions.
"We're not quite finished [with the exhibit]; we're going to create a smaller case with reference books and also have a revolving exhibit of other items from people's personal possessions they may want to share," Shotzberger said. "We're hoping that it perpetuates itself for a while."
Patti Christakos also has created a tumblr blog called "Mr. Hubbard's Salon," which the library plans to use to share related links, pictures and information about the exhibit topic.
Library Director Betsy Kennedy said she "loves" the new exhibit and what it adds to the museum's offerings.
"I am so grateful to our wonderful museum committee for working for many months to create the stunning exhibit. I hope people will stop in to view it," she said.
The Cazenovia Public Library Museum is free and open during regular library hours: 9 a.m. to 9 p.m. Monday through Friday and 10 a.m. to 5 p.m. on Saturdays. For more information visit cazenoviapubliclibrary.org or call 655-9322.
Jason Emerson is editor of the Cazenovia Republican. He can be reached at editor@cazenoviarepublican.com.
Vote on this Story by clicking on the Icon