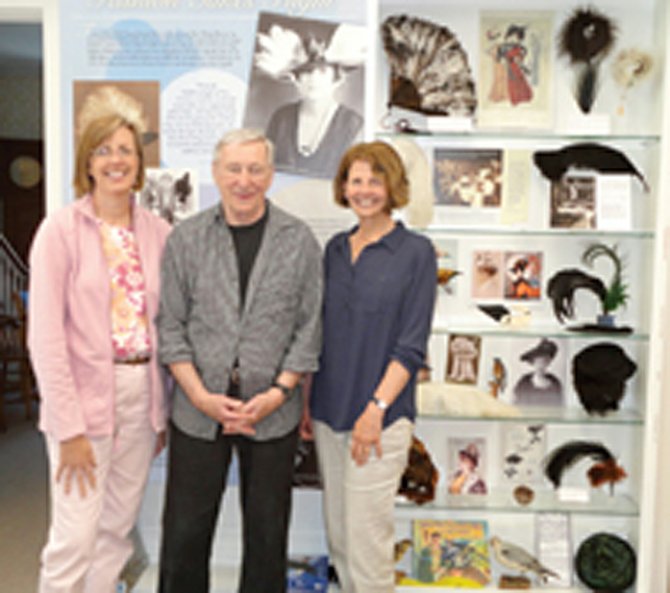 Cazenovia — There are a lot of stuffed birds in the Cazenovia Public Library Museum collection. And while it was a popular hobby to have such an ornithological display in one's home in the late 19th century, in Victorian times birds served another social function as well — fashion.
Museum educators at the library recently decided to blend this Victorian-era interest in science and love of fashion into a new permanent exhibit recently installed in the museum called "Fashion Takes Flight." It is an examination of how birds, and especially their feathers, were used in 19th century fashions — specifically hats and fans — how the millinery industry created and advertised the fashions and what it meant then and means today concerning natural preservation.
"We are both completely exhausted; but we are so thrilled at the end result," said library museum educator Julia Smith Shotzberger, who, along with her colleague Pat Hill, created the exhibit. "We love that you walk in that room and there's something new, something exciting and unlike the previous [information] panels we had done where it was just a panel. This has things to see and understand, and has much more of an impact."
Shotzberger and Hill have been explaining to school groups for years why there are so many birds in the library's museum collection, namely, because Rob Hubbard, son of the museum founder, was an avid naturalist who loved to study birds. But to study birds and have them stuffed meant having them killed, which the two educators also have explained for years while also tying in the theme of natural preservation.
Then in summer 2012, Hill visited a museum in the Berkshires and saw an exhibit on feathers and fashions, and came up with the idea for the current exhibit as a way to tie together the museum's bird collection, its 19th century roots and modern-day lessons on conservation and preservation.
(Continued on Next Page)
Prev Next
Vote on this Story by clicking on the Icon