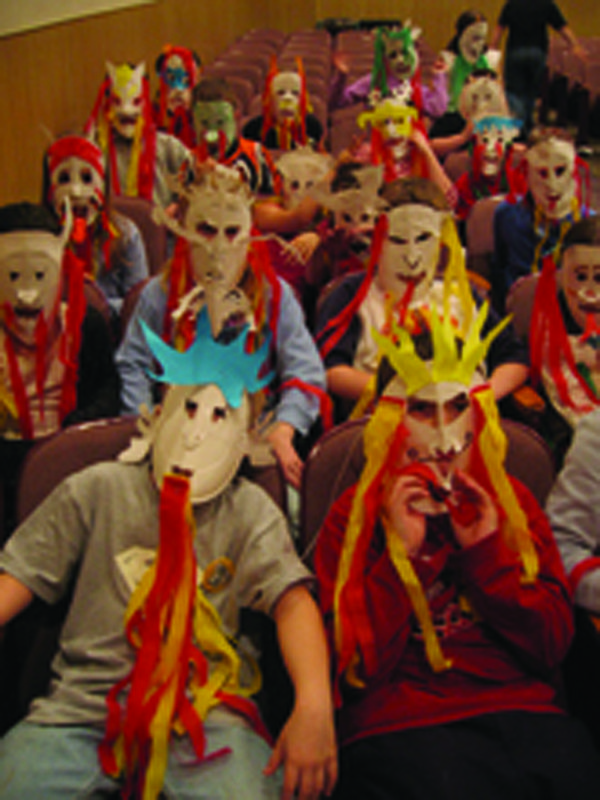 continued — Bromka's program is designed to make history come alive through a combination of hands-on activities related to the arts. For example, since the topic during the first two weeks will be on "Bawshou and the Dragon," an old Chinese tale, children will be learning all about dragons.
Activities for the weeks include creating dragon masks, making Chinese lanterns, learning Chinese calligraphy, choreographing dances for the final performance and playing traditional Medeival instruments – some of which aren't made anymore.
Bromka and her husband create instruments that they know existed, but are not produced anymore. She said they got inspiration to create many of their instruments from looking at paintings on the ceilings of churches while in Europe.
"It's different from a traditional theater camp because usually you're not told at all about the culture behind what you're performing," Lesser said. "You're told the story, what to say and what to do. Here, you're making the story your own with the group."
The summer camp will serve as the official beginning of the Enlighten-CNY Center for the Arts. This fall, Lesser and the rest of the staff will begin teaching music and art lessons at the center for anyone interested in learning. The Bromkas are excited to continue teaching at the center as well.
"For me, this kind of education is very important because it's the kind of education I got," Lesser said. "I think history, culture and everything connected within the arts makes a lot more sense when taught together. I started the Center for the Arts and we're a group of musicians that want to teach and who have the same ideas of what to teach children."
"I love the range in each individual child and the unique art that can come out because every student is different," added Bromka. "40 years and you haven't seen it all!"
The Enlighten-CNY summer camp will run for four weeks in July. For more information, visit enlightencny.com.
Vote on this Story by clicking on the Icon