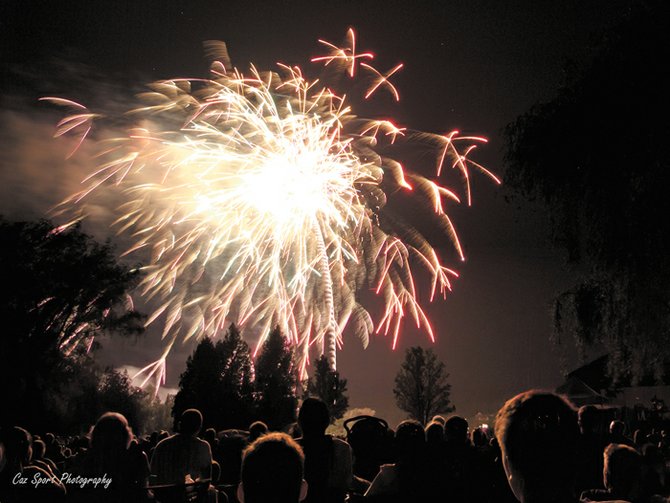 Cazenovia — The Cazenovia Fourth of July fireworks show above the lake is the premier display in Central New York — and this year it will be even more spectacular.
The Cazenovia Lions Club, which runs the fireworks display, is adding 23 of the largest size (five- and six-inch) shells to the middle of the show, said George Williams, chair of the Lions Club fireworks committee.
"We have a great opening salvo and of course the finale, but some people felt the main body last year was a little slow, so we hope this will take care of it," Williams said.
For the past seven years, the Cazenovia Lions Club, working with the Zambelli Fireworks Company, has been running the annual Fourth of July fireworks show, which attracts thousands of spectators from across Central New York to Lakeland Park.
Last year the club added 136 new fireworks shells to the show (a 24 percent increase from the 546 shells already planned), and those, as well as all other improvements over the years, will remain in the display this year.
Mayor Kurt Wheeler, who in 2012 did a countdown to the opening salvo through a walkie-talkie, this year will use a dynamite plunger to start the show.
"And the finale this year will be fantastic," Williams said.
It costs $10,000 to put on the Cazenovia July Fourth fireworks show, which the Lions Club raises every year through community donations. If the fundraising falls a little short, the club scales the display back the next year; if support exceeds the $10,000 goal, the overage goes into a fireworks fund and is used to enhance the show the next year, Williams said.
In 2012, the Lions Club reached its $10,000 fundraising goal on July 4. This year, as of June 21, the club had raised $8,500.
(Continued on Next Page)
Prev Next
Vote on this Story by clicking on the Icon