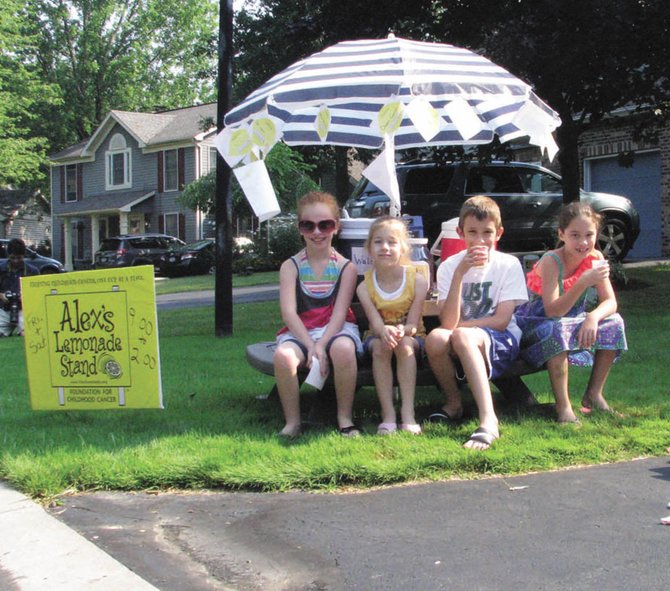 Cicero — On any given street corner all summer long, you're likely to find a gaggle of kids hawking lemonade and cookies.
But some of those would-be salesmen and –women are selling for a good cause.
This Friday, June 28, and Saturday, June 29, Madison King, 9, Owen Greco, 9, and Nadia Greco, 7, will set up a lemonade stand at 8434 Rollercoaster Drive, Cicero, and donate the proceeds to Alex's Lemonade Stand, a charity that funds pediatric cancer research.
Lisa King, Madison's mother, said the children, who are neighbors, host the stand every year because they recognize the importance of the charity.
"They feel that raising money in support of pediatric cancer research is such an important cause," she said. "It relates to children in their own age bracket."
Last year, the youths raised money in honor of their school librarian at Cicero Elementary as she battled cancer. This year, though they're not honoring anyone in particular, Madison, Owen and Nadia think their efforts are just as important.
"They want to make sure pediatric cancer research is at the front of people's minds," said Lisa King.
The King-Greco stand is one of hundreds, if not thousands, hosted by kids nationwide to support Alex's Lemonade Stand, which was started in 2004 in honor of Alexandra "Alex" Scott. Alex was diagnosed with neuroblastoma shortly before her first birthday and defied doctors' predictions that she'd likely never walk. She underwent rigorous treatment and, the day after her 4th birthday in 2000, told her mother, "When I get out of the hospital, I want to have a lemonade stand [to] help kids like me."
With the help of her older brother, Alex put together a lemonade stand and managed to raise $2,000 for pediatric cancer research. She continued the fundraisers every year, despite the fact that she was continuing to battle her own disease. Her story spread, inspiring others to contribute to the cause; people across the nation held lemonade stands and contributed money to Liz and Jay Scott's little girl's charity.
(Continued on Next Page)
Prev Next
Vote on this Story by clicking on the Icon