Though it is tradition for the graduating class to jump into Skaneateles Lake following the graduation ceremony, this year everyone in Clift Park got soaked.
Skaneateles High School's class of 2013, 140 strong, were awarded their diplomas at the school's commencement ceremony on June 23 at Clift Park. Though an imposing thunderstorm forced the administration to abbreviate the formal ceremony, all the students were able to graduate and then jump into the lake.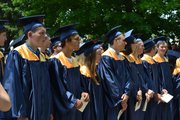 Matt Leverich, ranked third in the class acted as the master of ceremonies for the day introducing the administrators, students and teachers seated in the gazebo and in the front of the group.
Following the singing of the national anthem and the school's alma matter, Leverich and salutatorian Stephanie DeRosa gave prepared speeches, thanking those who helped them along the way and offering words of encouragement to their fellow graduates.
Leverich used Skaneateles Lake as a metaphor for opportunity. "There are 424 trillion gallons of water in that 16-mile stretch of pristine beauty. Each gallon presents an opportunity. Seize every one that comes your way."
DeRosa said that a strong educational system and sense of community are what make Skaneateles special.
"All our lists [of people to thank] when combined create a community that functions as a sanctuary. In Skaneateles every one knows one another, everyone acknowledges one another, everyone respects one another, I couldn't have dreamed of a better place to grow up that this small quiet little town full of friendly faces," she said.
Following DeRosa's speech Principal Georgette Hoskins announced that they would skip a planned announcement of honors and scholarships awarded to graduates in order to hand out diplomas before a thunderstorm moved into the area.
Hoskins read the names of the graduates as they walked in front of the gazebo and were congratulated by Board of Education President Evan Dreyfuss, Interim Superintendent of Schools Judy Pastel and High School Assistant Principal Mike Major.
The program was able to finish uninterrupted with valedictorian Nicholas Kochan giving an abbreviated speech just before it started to rain.
Though thunder could be heard in the distance as it stared to pour, the graduating seniors were not denied taking the traditional jump into the lake, fully clothed. In celebration of her last graduation ceremony before retiring at the end of this school year, Hoskins joined the seniors and took a plunge into the lake herself.
Vote on this Story by clicking on the Icon