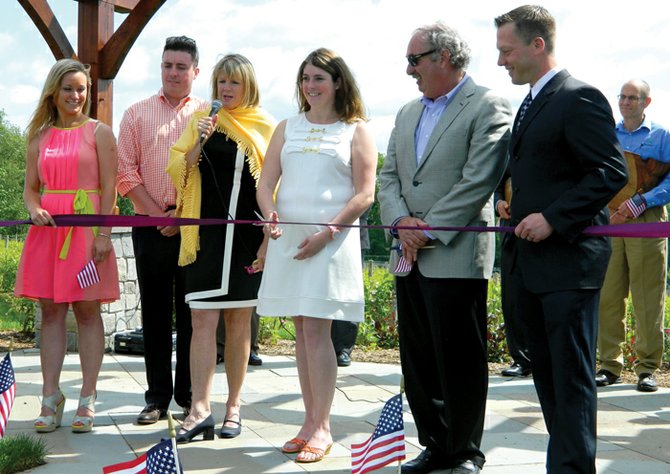 continued — In 2011, the Central New York's Regional Economic Development Council awarded Owera Vineyards a $994,000 grant to promote agri-tourism in the area, which the owners used to construct the 7,200-square-foot production facility and tasting room, and a 5,200-square-foot events center at their East Lake Road property. Groundbreaking occurred in 2012, and the facilities were completed last month.
During last week's ribbon-cutting ceremony, Nancy Muserlian gave a brief history of how and why she and her husband Peter, a developer, bought the land and ultimately created the vineyards and winery. She thanked numerous people who assisted them through the years to help create the winery, many of whom were in attendance at the event.
"This is wonderful," said Assemblyman Bill Magee, who represents Cazenovia in the state assembly. "As chairman of the agriculture committee I've worked with wineries many times. It's a fast growing industry, and now we have one in Madison County. It's a beautiful facility and I'm sure it will be very successful."
State Sen. David Valesky, who represents Cazenovia in the state senate, was also on hand at the event. "Thank you for your vision, and what you do for Central New York," he said.
State Sen. John DeFrancisco, who does not represent the Cazenovia district but is personal friends with the Muserlians, said, "Obviously they know how to do things right. This is magnificent, the quality of the wine and the beautiful setting. I'm sure it will be very successful."
On the local level, people are excited about the benefits in agri-tourism and to the economy that owera Vineyards is expected to bring.
"I am incredibly excited. This is such a great boon for the county," said Scott Flaherty, newly-appointed director of the Madison County Tourism office. "Tourism really is economic development, and new businesses such as Owera benefit everyone."
Vote on this Story by clicking on the Icon