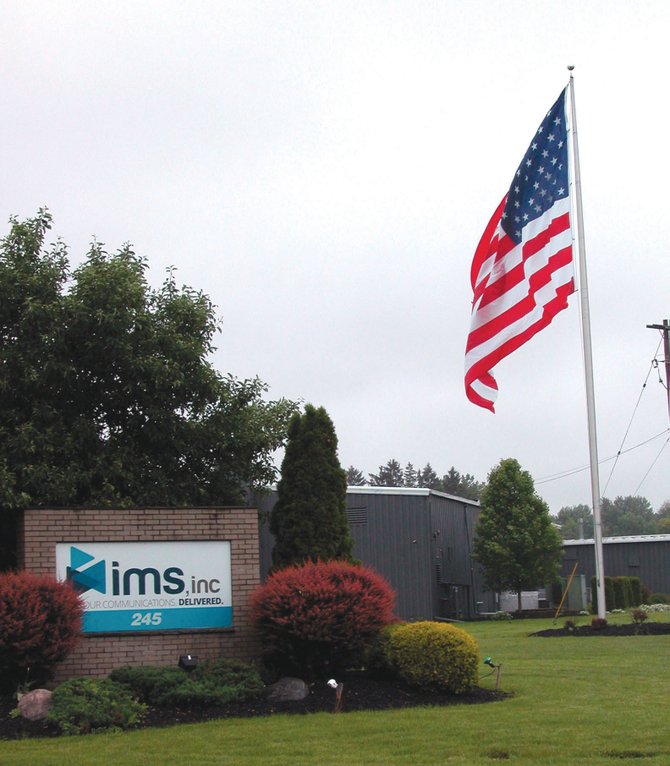 Liverpool — Want to see Old Glory waving in the wind like you've never seen her before?
Liverpool residents and visitors can celebrate Flag Day on Friday, June 14, by driving past Immediate Mail Services (IMS), at 245 Commerce Blvd.
The Star-Spangled Banner flying there is one of the largest U.S. flags on display in Central New York. With a width (or hoist) of 24 feet and a length (or fly) of 35 feet, the IMS flag stands as one of the most impressive spectacles in Liverpool.
Flag Day est. 1777
Flag Day is celebrated every June 14 because on that day in 1777 the Second Continental Congress passed a resolution adopting the Stars and Stripes as the official flag of the United States of America. In 1916, prompted by the Benevolent and Protective Order of Elks, President Woodrow Wilson signed a proclamation establishing June 14 as Flag Day across the country. President Franklin D. Roosevelt supported Flag Day during World War II, and in August 1949 and Act of Congress officially recognized National Flag Day.
Two of the nation's most famous Flag Day parades take place in New York State, one in Troy and one in Hudson.
The week of June 14 is designated as "National Flag Week," during which U.S. citizens and all government buildings are urged to fly the American flag for the duration of the week.
It's truly awe-inspiring to watching the huge banner unfurl in the breeze. It's far larger than the flags flown at the U.S. Capitol Building in Washington, D.C., which are usually 5x8 or 8x12 feet.
Why does IMS, a provider of print, electronic and mail communications, revel so immensely in the Red, White and Blue? The answer is old-fashioned American patriotism.
"We look at the flag display as a way in which our organization can show our support for our country, and a way in which we can honor those that have served our nation in the armed forces," said IMS President and Chief Operating Officer John Mashia Jr.
(Continued on Next Page)
Prev Next
Vote on this Story by clicking on the Icon