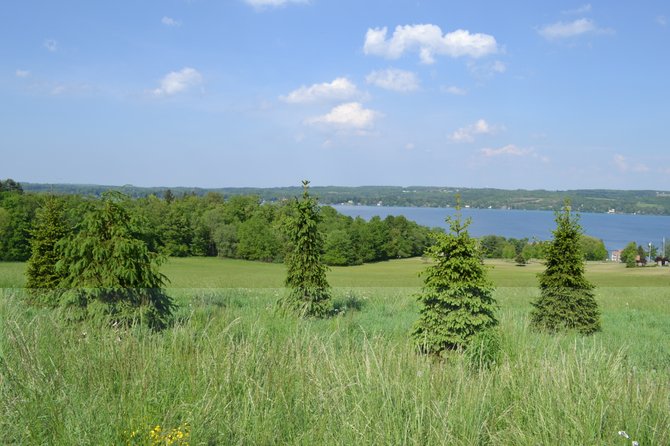 JUNE 12 UPDATE: public hearing postponed.
The public's chance to give input on a proposed 18-home development on West Lake Road in Skaneateles, to be called "Loveless Farm," has been delayed indefinitely.
The town planning board made the decision to postpone the public hearing after discussing the project at a special work session on June 11.
The parcel of land, owned by Skaneateles-resident Tim Green, is about 30 acres on West Lake Road about three miles from the village. The plans call for five houses to be built on the east side of the road and 13 houses to be built on the west side. The five houses on the east side, and one of the ones across the street, will have private access to Skaneateles Lake via a communal area. The land is zoned residential, but is currently vacant.
The planning board has been meeting with project manager Matt Vredenburgh, of EDR Companies, in recent months to ensure that the project plans meet town code on matters such as how close together the houses are, impermeable surface coverage and designs for roads and driveways.
Though the designs of the houses are not part of the proposal, it does specify how big the lots will be and how big the houses on the lots will be allowed to be.
Following a public hearing, the board will make a determination on the proposed development's State Environmental Quality Review Act application (SEQR), Planning Board Chairman Mark Tucker said.
Some of the provisions of town code are still open to the interpretation of the board and they will also take any comments or concerns expressed at the public hearing into consideration, Tucker said.
A negative declaration on the SEQR by the board would signify that the project will not have a negative impact on the environment. Following a negative declaration the developers will be able to move forward with other approvals it needs to secure before it can start building. These include OKs for piping, roads, drainage, water hookups and septic systems.
Though the project has preliminary approval from the Onondaga County Health Department, getting full approval for the project's septic systems could be an obstacle, Tucker said.
The developer for the project could not be reached for comment.
Joe Genco is the editor of the Skaneateles Press. He can be reached at editor@skaneatelespress.com.

Vote on this Story by clicking on the Icon