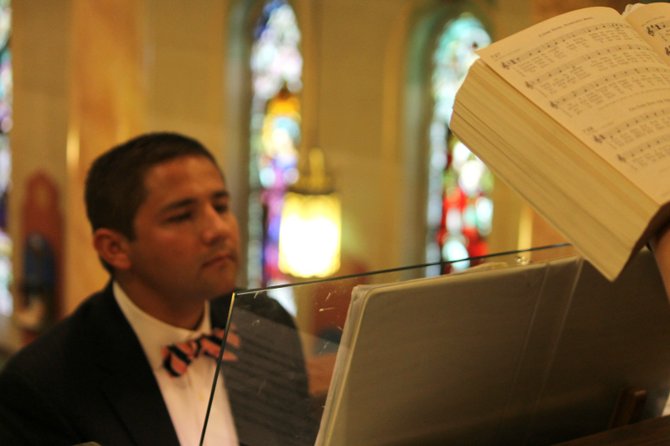 continued — Shepard has made St. Matthew's unique in that he has chosen to accompany the chant by playing the organ, as opposed to the traditional chant, which is sung a capella.
"I think by accompanying [the chant] you can make it brighter, more relatable and really bring out the beauty of the lines," Shepard said. "When I listen to a chant CD, I never listen to the solo stuff. Accompaniment makes it richer and gives it this texture, like a down comforter."
He said that without Gregorian chant, we wouldn't have any of the music we have today- all Western music derives from Gregorian chant because almost of the great composers grew up attending church and being influenced by the music- "You couldn't have stumped Mozart on it, he knew what [Gregorian chant] was, and was influenced greatly by it." said Shepard.
And many people still enjoy the chant outside of the walls of the church today. In fact, the number eight song on the Classical Billboard chart at time of publication is called "Angels and Saints At Ephesus," which is a Gregorian chant sung by a group of nuns.
Whether you consider yourself spiritual or not, Shepard encourages everyone to come out to mass to experience the beauty of Gregorian chant for themselves.
"People who are not inclined towards Catholicism or religion at all still like it, and they're welcome to just come here," he said. "Just come, sit and enjoy. There's also a group of people who are spiritual and are looking for a church that performs Gregorian chant but don't know where to look. Well, there is a church right in East Syracuse that has a dedicated pursuit of chant and a good sacred music repertoire. "
St. Matthew's celebrates Mass at 9 a.m. and 11 a.m. on Sundays, with the chant mass at 11 a.m. Additionally, Mass is celebrated on Saturdays at 5 p.m. and various feast days and solemnities on Friday's at 7 p.m. and occasionally at 7 p.m. on Fridays. For more information about the church and its music program, email Shepard at jared.shepard@gmail.com.
Vote on this Story by clicking on the Icon