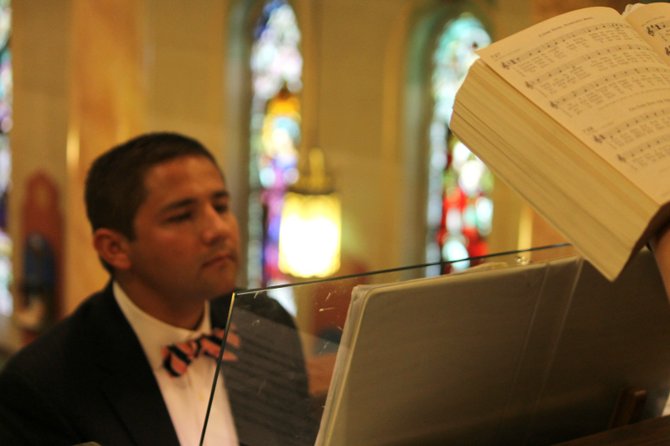 continued — "The music and the liturgy is conversational between the priest and the choir, either in Latin or English," he said. "We speak in music, which is something I find extremely compelling."
And St. Matthew's is one of the few area churches that still performs it each week to this day. At one point in time, Gregorian chant was preformed regularly at mass in the Catholic Church. But in the early 1960s, as a result of the Second Vatican Council, the church made some reforms to the liturgy and opened it up for other forms of music.
Around this time, commercial publishing for church music began to take off and push Gregorian chant to the wayside. Shepard said that today, about 60 percent of all Catholic churches use the same printed publication for music.
"They send you a book that has everything you need- all the psalms, the hymns and a little bit of chant," he said. "And they send you a quarterly publication with suggestions on everything to use. Because of this, it's become very easy to have non-full time musicians to do this work. With this book, you can plan the music in six minutes. But it's a totally false criteria for how you should be having music interact with the liturgy."
Shepard said that the music in the books tends to be comprised of music that people already like, such as "Amazing Grace," and other songs that are derivative of folk and rock music. He admits that it's not easy to keep up with the volumes and volumes of Gregorian chant to pick from, and that his church has some advantages that others don't.
"I have some people in my choir who are experts on language- both Latin and English- so our pronunciations and understanding of the language are very good," he said. "[Picking out the music] is pretty involved. I have gigabytes and gigabytes of just Gregorian chant on my computer. And they're hard to sift through because most of the tables of contents are in Latin. Yesterday I spent about four hours looking through them all."
Vote on this Story by clicking on the Icon