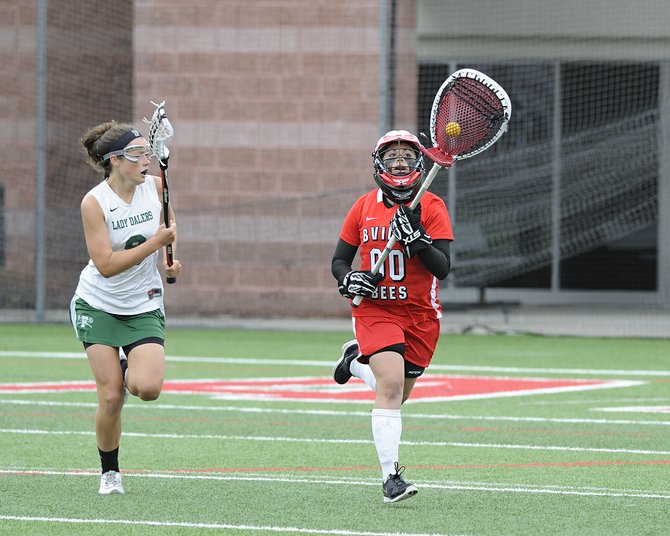 A remarkable and exciting journey taken by the Baldwinsville girls lacrosse team ended just one step short of a state Class A championship.
The Bees, chasing a second state title to match the one it earned in 2000, fell 8-5 to Farmingdale in Saturday's championship game at SUNY-Cortland.
It was the Dalers' third state championship in five years, earned by going on a key 4-0 early in the second half to break a 4-4 tie, a spurt that B'ville could not answer.
"We had our opportunities," said head coach Doug Rowe. "But they (Farmingdale) were just too good."
For the Bees, the whole thing boiled down to just how much it had improved since that 16-5 beating Farmingdale had given them on Long Island more than two months earlier.
Rowe said the major upgrades had come on two fronts - in the draw circle, where Abbey Foote had turned into a dominant force, and in goal, where Nicole Burrows had gained confidence through strong performances throughout the spring.
It certainly didn't start well. The Dalers dominated the early draws and struck first on Tara Wahl's free-position goal 1:41 into the game. Then Amanda Turturro and Nadine Hadnagy scored 52 seconds apart, and the Bees, trailing 3-0, called a time-out with the game barely five minutes old.
That halted Farmingdale's momentum. B'ville's back line of Jaclyn Hingre, Samantha Ward, Amanda Klein and Lexi Pastore made stops, and the offense got a chance to operate.
A turnover from Dalers goalie Olivia Kirk led to Taylor Gebhardt's goal at the 9:21 mark that put the Bees on the board. It stayed that way until late in the half, when Kennedy Frink's hard shot from the right side found the net, cutting the deficit to 3-2, which held up until halftime.
Energized by the turnaround it had engineered, the Bees won the draw to start the second half and tied it, 3-3, in just 30 seconds as Sarah Klaben converted. Wahl answered just 11 seconds later, ending a drought where the Dalers had gone nearly 21 minutes without a goal, but Amari Pollard provided her own response to pull B'ville even again, 4-4.
(Continued on Next Page)
Prev Next
Vote on this Story by clicking on the Icon