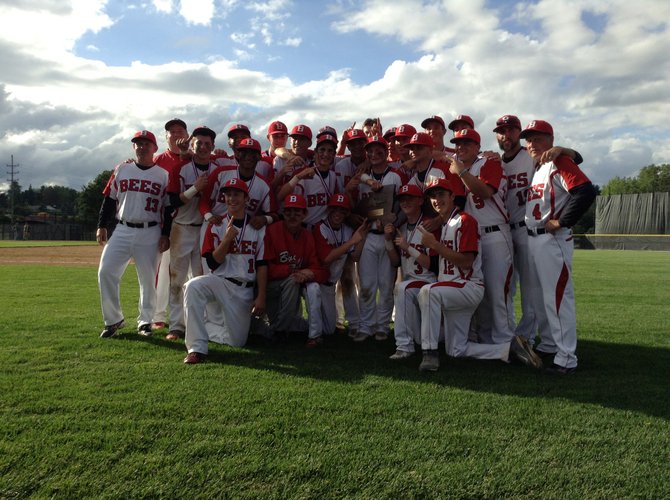 Using a lethal mix of his fastball and slow curve, Blewett piled up nine strikeouts. When he wasn't fanning Ward Melville's hitters, he was getting error-free defense behind him as Zach Leo's fifth-inning catch proved a particular highlight.
Right after Blewett was done dealing, B'ville watched as Clarence, the Section VI champions from the Buffalo suburbs, beat Arlington 5-2 in the other semifinal, but in the process used up its ace, Mark Armstrong, who was drafted Friday by the Cincinnati Reds.
The Bees, though, still had an ace ready to deal, and Merryweather had a particular motivation. He had missed out on B'ville's run to the state semifinals a year ago, and was determined to take advantage of this chance and finish on top as he opposed the Red Devils' Mark Materise.
Just as in the semifinals with Blewett, Merryweather put two Clarence runners on base in the first, but got out of trouble. And just like against Ward Melville, Levanti produced a run in the bottom of the first, this time with an RBI triple that scored Jake Norton, who had led off with a double.
Merryweather may not have overpowered the Red Devils, but he showed tremendous poise. In the third, fourth and fifth innings, Clarence got two runners on base, one hit away from tying the game or moving in front, and all three times erryweather pitched his way out of it.
Materise also thwarted B'ville's chances and kept the game 1-0 until the bottom of the fifth. But Norton, who had produced so many big hits in the Bees' post-season run, did so again, delivering a run-scoring double that doubled the margin to 2-0.
Not stopping there, the Bees added two more runs (scored by Norton and Levanti) off a Clarence error to make it 4-0, but it wasn't over. In the seventh, Merryweather gave up a run on Ryan Jelonik's single that scored Bobby Floria, and the Red Devils once more threatened, bringing the tying run to the plate.
Staying calm for one more moment, Merryweather, who surrendered six hits but earned nine strikeouts, recorded the final two outs, the 10th and 11th runners Clarence stranded, and the celebration of a landmark state championship for Baldwinsville baseball was underway.
Vote on this Story by clicking on the Icon