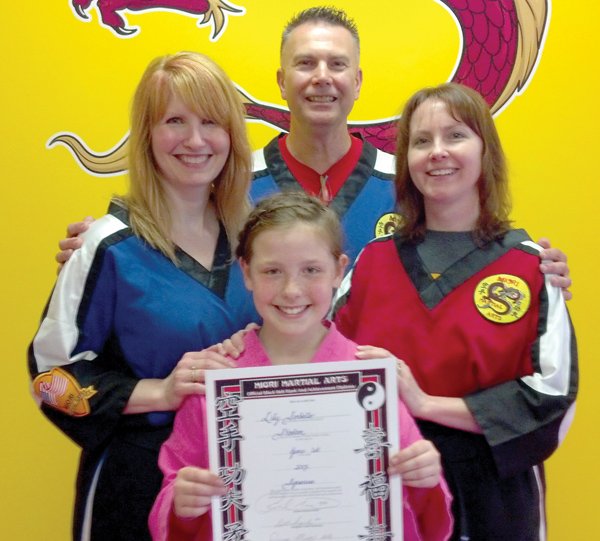 continued — "Lily has amazing dedication for her age. Every goal she has set out to reach she has achieved. As an instructor she is definitely a role model to the students and she is a great helper," said Fragale.
The June 1 multiple-hour test taxed Lily's will to succeed as well as her physical and mental strength. When it was over, the pain lingered on but the test faded to black as this young lady celebrated with plenty of pictures, cake, a smile and her family.
"Lily always works beyond what is asked of her [in school]," said Pamela Franco, Lily's fourth grade teacher at Burton Street Elementary School. "She puts a great deal of effort into all she does. I am very proud of her achievements in the classroom as well as with receiving her black belt. Way to go, Lily!"
In addition to karate, Lily also excels at the violin, lacrosse and field hockey. Her violin instructor even noticed her talent and dedication as Lily was rewarded with sitting first chair for the most recent performance. She is a huge Syracuse University woman's lacrosse fan and views Michelle Tumolo as a role model.
For fun, Lily enjoys arts and crafts as well as aspiring to be an Adirondack Forty-Sixer, where she is an avid camper and hiker.
Now that she has achieved her goal of becoming a first-degree black belt Lily now sets her sights on earning the next degree and continuing to teach.
"I am truly amazed at her passion, determination and tenacity which I see permeating into everything that she does," said her father. "This experience has been great for her confidence and identity. Master Beth has been an outstanding, positive female role model and has helped shape her into a blossoming young lady. Once again I'm so very proud of my daughter and hope that she continues to reach for the stars."
Vote on this Story by clicking on the Icon