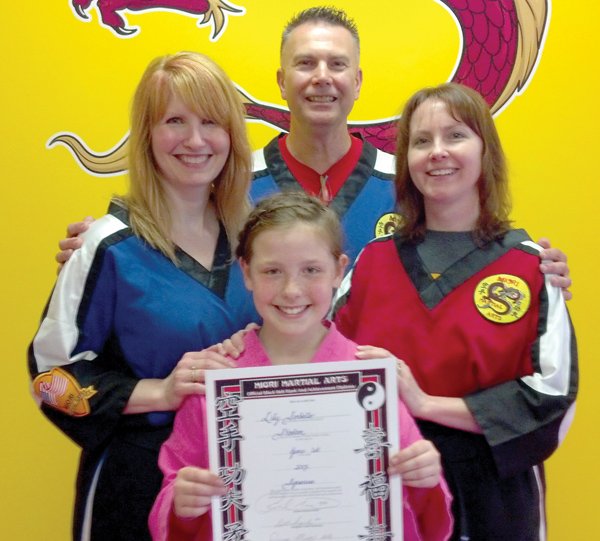 Cazenovia — On June 1, at an undisclosed location (Black Belt Island) Cazenovia fourth grader Lily Sorbello earned her black belt and reached a personal goal at the age of 10. Miori Martial Arts owner Rick Miori said she is one of the youngest he's ever seen go through his organization.
Lily called her accomplishment "the end of one chapter and the start of a new one" after she finished her test. "It was tough but rewarding to see that my hard work pay off. I am so thankful for everyone's support," she said.
A journey of a thousand miles begins with a single step, said the Taoist leader Lao-Tzu. Several years ago in an after-school program at the Burton Street Elementary School gym is where Lily Coral Sorbello's journey in to karate began. As a kindergartener she was self-motivated from the start and insisted on attending an additional night at the Dojo.
Within the first two days, Lily learned and memorized the 58-word honor code in order to earn her white belt. She was the first in the class to do so. Before too long with the support of her father she was enrolled full-time at Masters of Karate (now Miori Martial Arts) in the Cazenovia Tops plaza. Working her way up the ranks like rungs on a ladder, Sorbello elected early on to volunteer to assist and teach. Her first opportunity to teach came back at the gym where she took her first step as a student.
According to her father, David Sorbello, "Teaching was her unique way to give back to her community and is something that she did on her own. I'm proud of her in every facet, but her interest in assisting is a special quality of hers."
With the support and guidance of her master instructor, Beth Fragale, Lily has been assisting since her yellow belt (second belt).
(Continued on Next Page)
Prev Next
Vote on this Story by clicking on the Icon