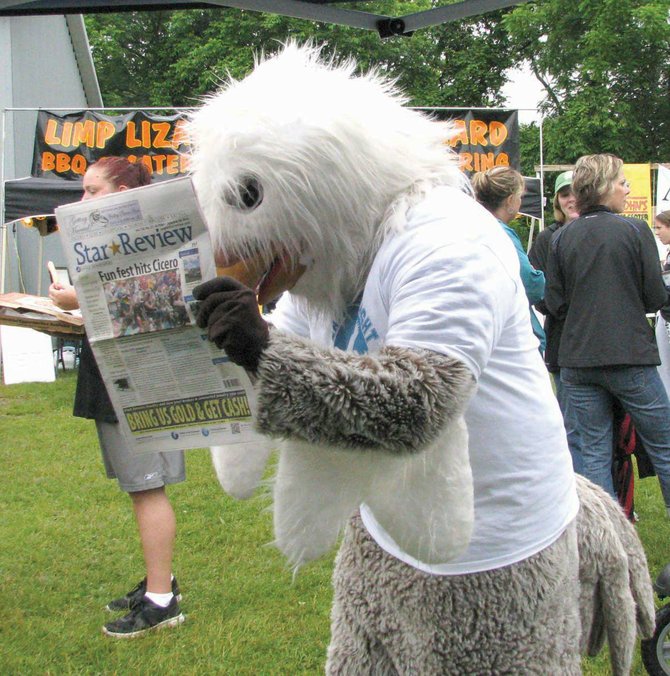 continued — For many festival-goers, the main draw is the parade on Saturday. About 700 people usually march in the spectacle. This year's theme is "Cicero Goes Broadway," which will carry through the entire festival.
"Every year, we try to come up with something we think people will enjoy," Becker said. "The committee will sit around the table and come up with a list. Last year, the theme was 'Passport for Fun.' The year before, it was 'Hats Off to Heroes.' The year before that, it was 'Rockin' and Reelin,' about music and movies. More or less, we come up with a list and it just seems to click. Anybody in the parade can have something from Broadway. For example, the marching bands from the North Syracuse district [will be in the parade]. We'll have a collection of students from fifth through 12th grade, more than 100 students, performing 'Mamma Mia.'"
This year's parade and general festivities will be led by Grand Marshal Dave Longley, chief meteorologist for NewsChannel 9 and a Cicero native. Longley also has multiple sclerosis. As such, tickets will be sold at the festival for $2, with all proceeds benefiting Multiple Sclerosis Resources of Central New York.
As if the good cause wasn't enough reason to buy the tickets, the prize is something to behold.
"Going along with [the Broadway] theme, we'll be giving away a trip to a Broadway show," Becker said. "They'll get Amtrak tickets, hotel accommodations for two and the tickets, all courtesy of AAA, and there will be runner-up prizes, as well. We'll be drawing a winner just before the fireworks on Saturday night."
It's no wonder people keep coming back to the Cicero Community Festival — and no wonder the organizers keep offering it.
"The chamber thinks it's important to bring the community together, to recognize the businesses and to offer something for the families," Becker said. "Really, when you see people are enjoying themselves, you get the feeling this is something you should be doing year in and year out."
Vote on this Story by clicking on the Icon