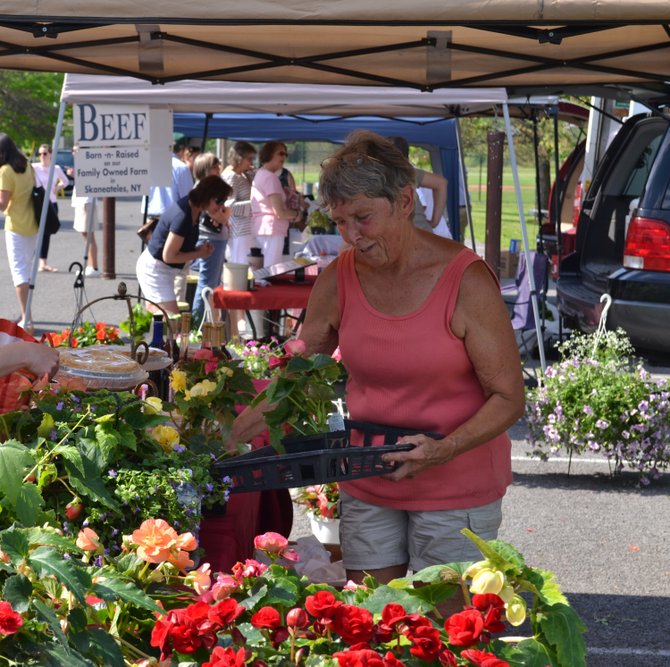 With the arrival of summer people will again have an opportunity to buy locally grown food at the Skaneateles Farmers Market.
The market, now in its 14th year, had its opening day on Thursday, May 23 and will be open on Saturdays starting June 15 at the parking lot next to Austin Park Pavilion.
The market is open on Thursdays from 3:30 p.m. to 6:30 p.m. and has expanded its Saturday hours this year to open one hour earlier, 9 a.m., and close at 1 p.m.
The town has a number of specific requirements of the vendors to keep the market simple and just about locally grown food, market manager Sue Murphy said.
Farmers are required to sell at least 80 percent locally grown produce, the other 20 percent can be resale but must also come from New York. The vendors are also only allowed to sell food products no craft items, unless they are made of products grown on the farm, such as wool, Murphy said.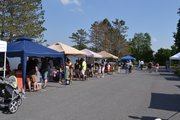 The town started the Saturday market a few years ago so that tourists, weekend visitors or anyone unable to make it to the Thursday market would also be able to buy local produce and meet the farmers.
The Thursday market has a full lineup of 20 vendors for the season, though the town is still accepting applications for spots in the Saturday market, Murphy said. Applications can be found on the town website, townofskaneateles.com.
One of the perks of the market is that shoppers get a chance to meet and talk to the farmers and learn more about the food and where it comes from. Many of the farmer's bring different items to the market too throughout the summer and when the season changes from summer to fall.
In the beginning of the season, fresh produce is hard to find, and the savvy shoppers come early to get the best products, Diane Burdick of Giancarelli Farm and Farm Winery in Weedsport said.
(Continued on Next Page)
Prev Next
Vote on this Story by clicking on the Icon