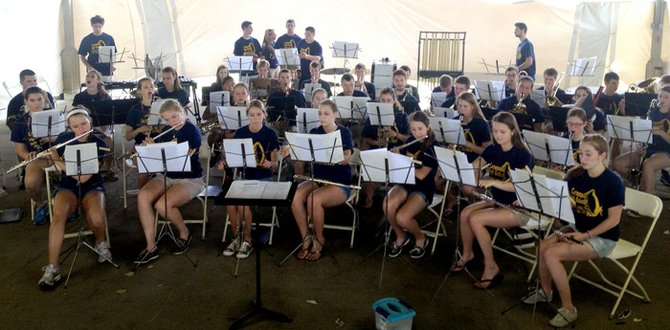 The wind ensemble includes: Danielle Axelson, Hunter Burnett, Connor Carroll, Evan Cornell, Jeanette Cudney, Jeff Dewan, Caleb Edelstin, Hayley Frost, Ryan Grabowsky, Erin Haube, Kelsey Henderson, Kyle Johnson, Maggie Johnson, Pat Karmis, Brody Kellish, David Kempf, Katie Kempf, Mays Kirenan, Sally Langan, Nick Mahoney, Morgan Mapstone, Kyle Markowski, Rebecca Marsch, David Martellock, Chris Matteson, Maddie McDonald, Rachel McLaughlin, Maureen Milmoe, Ally Muller, Maggie Namy, Mike Nourse, Liz Pittman, Hayden Polhamus, Conner Polsin, Julia Raleigh, Sydney Schnabl, Lucy Shephard, Jessy Silfer, Ryker Smith, Colleen Stalder, Emily Stoker, Marie Sugio, Sam Webster, Derek White and Nicole White.
Traveling to and competing in the event at the Darien Lake Amusement Park was a goal the ensemble worked toward throughout the school year, said Johnson. The students challenged themselves to earn a "superior" rating, which requires a minimum score of 90 points.
"The students reached and then smashed their goal, receiving a score of 99.3 and a rating of 'gold with distinction,'" Johnson said.
In addition to the trophies, the music students also earned the right to spend part of the day enjoying all the amusement park had to offer.
"It was nice for the students to get a reward, regardless of what the competition results turned out to be," Campbell said.
Laura Ryan is the Cazenovia CSD public information officer.
Vote on this Story by clicking on the Icon